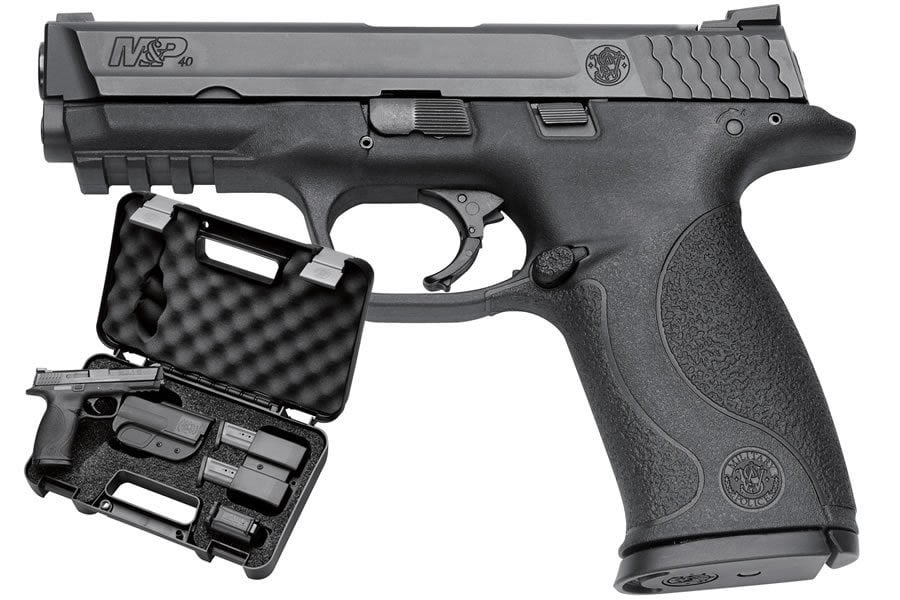 Description
What's in the Box
M&P Pistol
(3) Magazines
(3) Interchangeable Palmswell Grip Sizes
Blade-Tech® Kydex® Holster
Blade-Tech® Double Magazine Pouch
Maglula Uplula™ Speed Loader
Ear Plugs
Cable Lock
Spent Casing
This M&P 40 Full-Size pistol from Smith & Wesson comes brand new with Smith & Wesson's Carry and Range Kit. The M&P pistol consists of reinforced polymer chassis, superior ergonomics, ambidextrous controls and proven safety features. The new standard in reliability when your job is to serve and protect and your life is on the line.
In the design of the M&P, the needs of military and law enforcement were considered from every conceivable angle. No other polymer pistol offers this combination of versatility, durability and safety. To top it off, the M&P series is covered under Smith & Wesson's Lifetime Service Policy.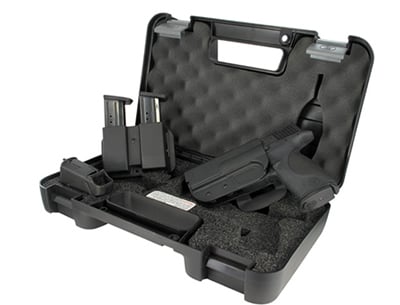 Firearm Specifications
Model: M&P40 Carry and Range Kit
Caliber: .40 S&W
Capacity: 15 Rounds
Action: Striker Fire Action
Barrel Length: 4.25" / 10.8 cm
Overall Length: 7.625" / 19.4 cm
Overall Height: 5.5" / 13.9 cm
Width: 1.2" / 3.048 cm
Weight: 24.0 oz. / 680.4 g
Front Sight: White Dot Dovetail
Rear Sight: Steel Low Profile Carry
Grip: (3) Palmswell Grip Sizes
Material: Frame/Polymer
Slide: Stainless Steel
Barrel: Stainless Steel
Finish: Black Melonite® 68HRc
Purpose: Personal Protection / Home Protection / Professional / Duty / Recreational
Reviews
Best firearm purchase by Matt from gahanna, Ohio
I have had this gun for years now and i t has made me a die hard Smith and Wesson fan. It is extremely reliable. The speed loader is very well made and easy to use. 3 15rd mags and a holster for the firearm and mags. Its unbeatable.