SIG SAUER P238 380ACP TWO-TONE WITH TACTICAL LASER
View More Products from SIG SAUER
Item Number: 238-380-NBS12
No longer available. We don't know when or if this item will be back in stock.
Notify me when available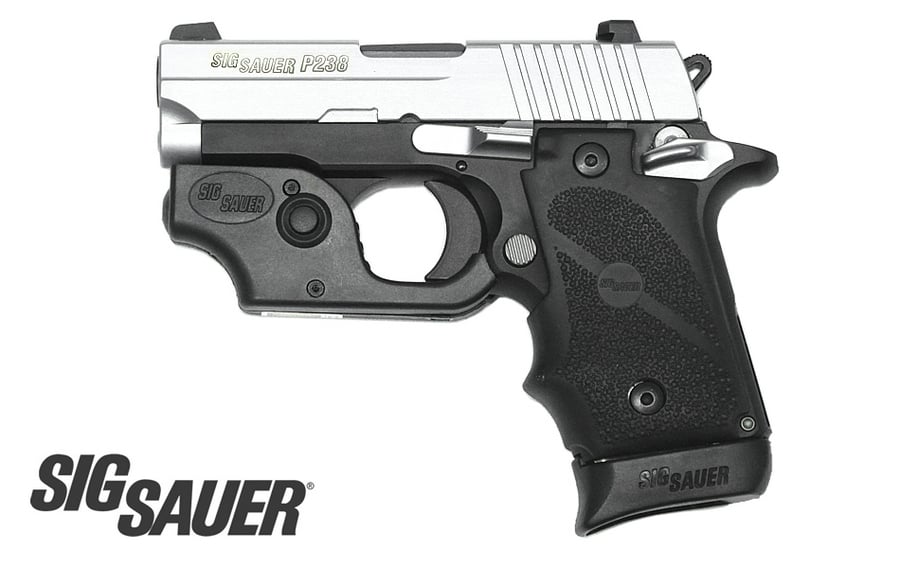 2 Mags and a Bag
Receive a one-time access promotional code from Sig Sauer for two 2 free magazines and one 1 pistol bag via online submission with purchase of a NEW SIG SAUER pistol. Excludes purchase of P320 X5, P210, P224, MPX, PMCX and PM400. Access code is one-time use with no balance carry over.
Offer expires Oct 15, 2017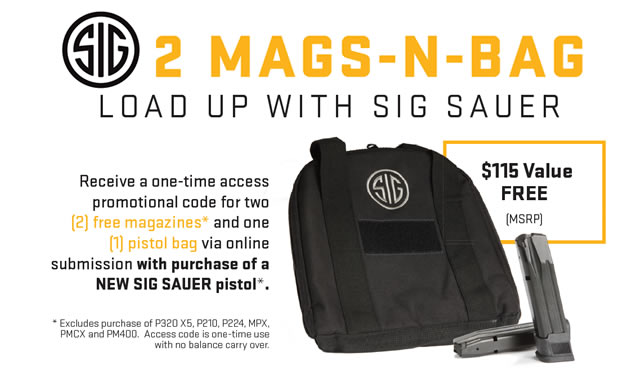 Description
What's in the Box
Sig Sauer P238 Two-Tone NBS12 Pistol
PX38-TGL Trigger Guard Laser
One 7-Round Magazine with Finger Extension
Sig Sauer Holster
PX38-TGL Laser Owners Manual, Adjustment Tool and 3V CR1/3N Lithium Battery
Cable Lock
Brand new from Sig Sauer®, the P238 NBS12 is built on an anodized alloy beavertail style frame with rubber grips for comfort and a secure hold during rapid-fire usage. The stainless steel slide features the popular trademarked Sig Sauer slide serrations and SIGLITE® Night Sights.
The P238 NBS12 is just a fraction of the size of Sig's full-size pistols and built with the same accuracy and reliability as their large frame pistols. With an overall length of just 5.5 inches, a height of 3.96 inches, and weighing just 16.2 ounces, the Sig Sauer P238 NBS12 is the ultimate firepower in an all metal frame concealed pistol.
NBS12 Package Overview
This exclusive P238 includes a red tactical laser that integrates with the trigger guard. It also comes equipped with SigLite Night Sights, their 7-round extended finger groove magazine, and a Sig Sauer holster.
X38-TGL Trigger Guard Laser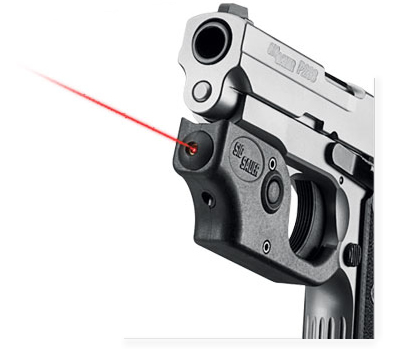 The SIG X38-TGL Trigger Guard Laser for the P238™ NBS12 Pistol is a compact, lightweight, red pointing laser used for aiming. The X38-TGL combines pinpoint accuracy and rapid target acquisition with intuitive operation, in a form fitting package weighing only 1.0 oz.
Ambidextrous On/Off switches
Compact form factor blends with the lines of the P238 NBS12 and the P938 Pistol
Convenient low profile mounting
Windage & elevation adjustments
Firearm Specifications
Item Number: 238-380-NBS12
Caliber: .380 ACP
Action Type: SAO
Trigger Pull: 7.5-8.5 lbs
Overall Length: 5.5 in
Overall Height: 3.9 in
Overall Width: 1.1 in
Barrel Length: 2.7 in
Sight Radius: 3.8 in
Weight w/Mag: 16.2 oz
Capacity: 7 Rounds
Sights: SIGLITE Night Sights
Grips: SIG SAUER® Rubber Grips
Frame Finish: Black Hard Anodized
Slide Finish: Stainless
Accessory Rail: No
Features: Integrated laser, Beavertail style frame, custom rubber grips, SIGLITE Night Sights, holster
MSRP: $855.95
CA Compliant: No
Related Videos