CROSMAN BOLT ACTION BB OR PELLET RIFLE
View More Products from CROSMAN
Item Number: 2100B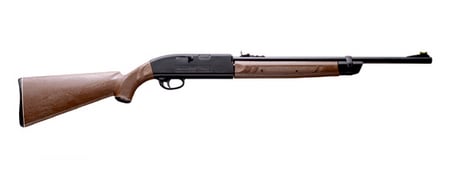 Description
Crosman Bolt Action BB or Pellet Rifle

Item Number: 2100B

One of the most versatile airguns on the market, the Crosman 2100B multi-pump pneumatic shoots either steel BBs or .177 lead pellets. With 200 BB rounds in the gun`s reservoir (17 BBs in the magazine), you`ll be shooting for hours without having to reload. Just pump and shoot! If you prefer to shoot pellets, the 2100B can do that, too (loaded one at a time). As both a repeater and a single-shot, this rifle offers adaptability not found in most other airguns.

If pest elimination or hunting is your bag, you can take very small rodents (at close distances) with pellets. The 11mm dovetail makes scoping the gun an easy project. Both BBs and pellets can be used to shoot targets, although steel BBs should never be shot at metal targets and objects. Pump the 2100B from 2 to 10 pumps, depending on the distance you`re shooting. Light in weight, this full-size powerhouse launches pellets up to 725 fps and BBs up to 755 fps.

Never pump your 2100B more than 10 pumps!

Versatile multi-pump pneumatic shoots either steel BBs (755 fps) or .177 pellets (725 fps).