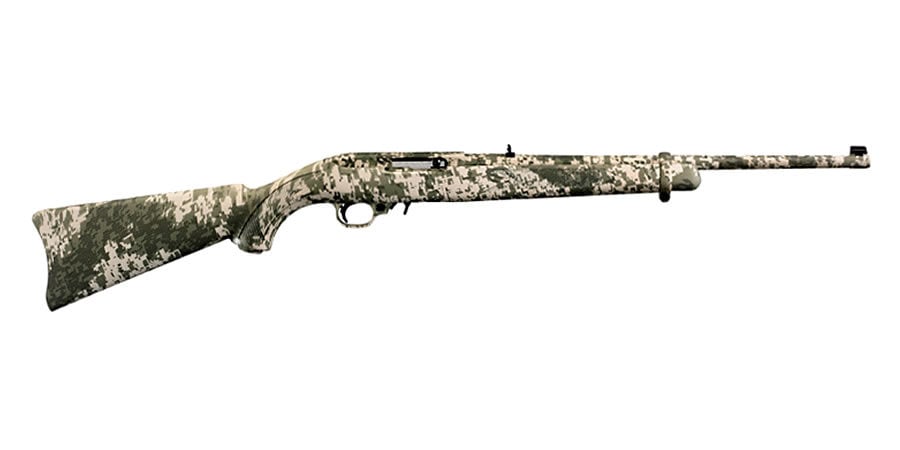 Description
The Benchmark for .22 Rifles – Experience the Tradition. The Ruger® 10/22® rifle is Americas favorite .22 LR rifle, with proven performance in a wide range of styles for every rimfire application. Ideally suited for informal target shooting, plinking, small game hunting and action-shooting events, Ruger has sold millions of 10/22 rifles since their introduction in 1964.
It looks right, feels right, shoots right and continues to perform under heavy use - inspiring the most fanatical loyalty from its owners. With proven design, legendary reliability and the modern features demanded by todays .22 LR shooters, these firearms are priced right to make keeping tradition affordable.
Firearm Specifications
Caliber: 22 LR
Stock: Synthetic w/ Green Digital Camo
Finish: Green Digital Camo
Rear Sight: Adjustable
Front Sight: Blade
Material: Alloy Steel
Weight: 5.00 lbs.
Barrel Length: 18.50 inch
Overall Length: 37.00 inch
Grooves: 6
Twist: 1:16 RH
Capacity: 10
Related Videos
Reviews
Great little rifle! by Alan from Columbus, OH
I bought the Ruger 10/22 in Digital Camo. Love it! Made one slight adjustment in the rear sight, and was plinking bullseyes all afternoon. Really light weight, too. Makes a good "next-to-the-bed" rifle. Very easy to handle or maneuver. Im extremely pleased with this little jewel, and I just HAD to have the digital camo. Thanks, Ruger, and thanks to the guys and gals at Buckeye Outdoors!