RUGER LC9 9MM CENTERFIRE PISTOL
View More Products from RUGER
Item Number: 3200
No longer available. We don't know when or if this item will be back in stock.
Notify me when available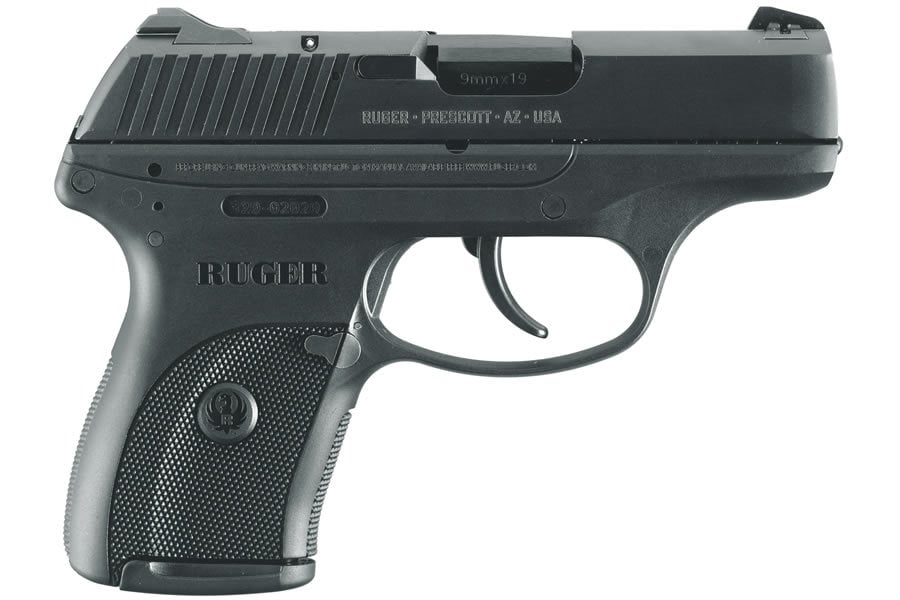 Description
What's in the Box
Ruger LC9 Pistol
7-Round Magazine
Finger Grip Extension Floorplate
Soft Case
Gun Lock
Internal Lock Key
Spent Case
The Ruger LC9 is a double-action-only, hammer-fired, locked-breech pistol with a smooth trigger pull. Control and confident handling of the Ruger LC9 are accomplished through reduced recoil and aggressive frame checkering for a positive grip in all conditions. The Ruger LC9 features smooth melted edges for ease of holstering, carrying and drawing.
One seven-round, single-column magazine is provided with each LC9 pistol. The magazine's standard flat floorplate aids concealability, while the provided finger grip extension floorplate offers an option to shooters who prefer a longer grip surface with more hand-to-pistol contact.
Firearm Features
The Ruger LC9 is compact and just slightly larger (less than 1 inch in both height and length) than the popular LCP. Its rugged construction consists of a blued, through-hardened alloy steel slide and a black, one-piece high-performance, glass-filled nylon grip frame.
Ruger's dovetailed, high visibility 3-dot sight system on the LC9 contains a windage-adjustable rear sight and a fixed front sight. Safety features include an internal lock, manual safety, magazine safety and a loaded chamber indicator which provides visual and tactile indication that chamber is loaded.
Firearm Specifications
Catalog Number: LC9
Model Number: 3200
Caliber: 9mm Luger
Capacity: 7+1
Barrel Length (inches): 3.12
Barrel Material: Alloy Steel
Barrel Finish: Blued
Slide Material: Through-Hardened Alloy Steel
Slide Finish: Blued
Grip Frame: Black, High Performance, Glass-Filled Nylon
MA Approved: No
CA Approved: No
Reviews
Awesome CC gun... by Jeff from Plain City, Ohio
Ruger has done it again....I had my LC9 for a couple of months before I was able to make it to the range....and I was concerned about the size, the recoil, accuracy, etc....well my worries are no more....I put a little over 200 rounds through it in just about 20 minutes, mostly cheap federal ammo and some hornady zombie rounds....No faulires whatsoever, very manageable recoil and I was able to be accurate enough up to about 30ft really dont see this being used over 10-15ft....my only recommendation would be that if you have larger hands like I do, be sure to get the extention for the mag....
Ruger LC9 by Duane from Marietta, Ohio
First impression of the LC9 is one fantastic gun. Purchased just for ccw and slim design conceals nicely iwb. 100 rounds with no failures and recoil can be easily controlled, even for a smaller frame pistol.
Way better than the LCP by Nick from Columbus, Ohio
I bought the LCP .380 originally and couldnt hit the broad side of a barn with it. I traded it in and got the LC9 and kicked myself for not getting it in the first place. It is not much larger than the LCP but is 10 times more accurate. The sites are awesome. Very easy to conceal on your hip with a tee shirt.
Great Gun! by Rusty from Dublin, Ohio
I bought this for ccw. It fit my hand well with the included mag extention. I have long slender hands. My girlfriend likes it without. It is the perfect size, fitting well in pants pockets. I just hit 350 rounds through the gun, and it has been nothing but reliable. I have not had a single issue with this gun. I would buy it again, and recommend it to a friend. I will deffinately buy Ruger again.
Poor performance by Sean from Columbus, Ohio
I purchased this gun in 2012 after reading great reviews. The pros: good construction, easy to conceal and comfortable to carry, light weight.

The cons: Heavy trigger pull, poor accuracy, mag releases on its on sometimes when carried.

After two years of practice I am still unable to adjust to the heavy trigger pull and snappy recoil of this weapon. I moved up to the SR9c sacrificing conceal comfort but am able to maintain a three to four inch grouping at 5 yards every time without practicing. If you want concealment go with the m&p shield. Its the same price and is a much better performer than the lc9 but if you dont mind the extra weight go with the SR9c. Carries more ammo and the accuracy is second to none.