BARNETT RECRUIT CROSSBOW PACKAGE
View More Products from BARNETT
Item Number: 78610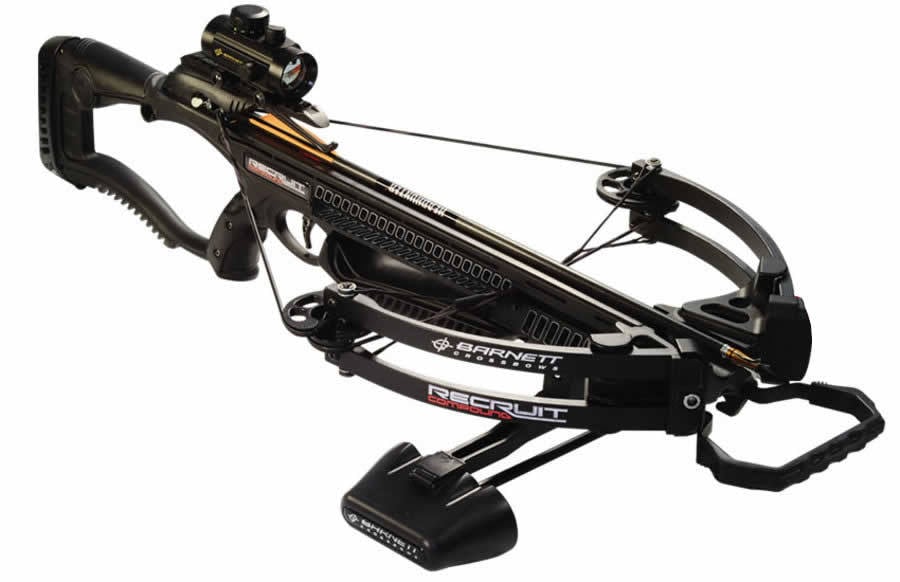 Description
What's in the Box
Barnett Recruit Crossbow
Barnett Quiver
Rope cocking device
Red Dot Scope
The Recruit crossbow from Barnett is the perfect way to introduce a new shooter to crossbow hunting or is the ideal choice for the crossbow hunter who wants a compact lightweight hunting crossbow. With an adjustable stock and cheek piece, the Recruit will fit any size archer. With arrow speeds up to 300 fps, this bow can take down any game.
Arrows Not Included
Product Features
Barnett custom composite limbs
High energy cams
Anti-Dry Fire trigger
CNC machined aluminum flight track
Custom composite laminated limbs
Crosswire string and cable system
Finger Guard Pass Through foregrip
Product Specifications
Speed: 300 fps with 400 grain arrow
Kinetic Energy: 80 ft-lbs.
Draw Weight: 130 lbs.
Power Stroke: 12 in.
Overall Length: 34.25 in.
Axle to Axle Width: 16in.
Weight: 6.5 lbs. without accessories
Sight: Red Dot Scope
---
Reviews
they made it just for me by timninetoes from New Plymouth, Ohio
I really like the bow Im disabled and it has a easy smooth trigger pull, a bit hard to cock but a CCD took care of that. Its not to heavy, shoots strait and true. It is kinda noisy but I should be able quiet it down some. Its a great first crossbow, and the guys at Vances where most helpful they sighted it in for me thanks Ed .