VANCE OUTDOORS P365 9MM WITH 2 BOXES OF SIG AMMO
View More Products from VANCE OUTDOORS
Item Number: 365-9-BXR3-VC

This item is a special order. It will ship as soon as it becomes available. There is currently no estimated delivery time.

Special orders will be charged 20% of the total price when you place your order, and the rest will be charged when you pick your order up. If you change your mind, you can cancel at any time.
IN STORE PICKUP ONLY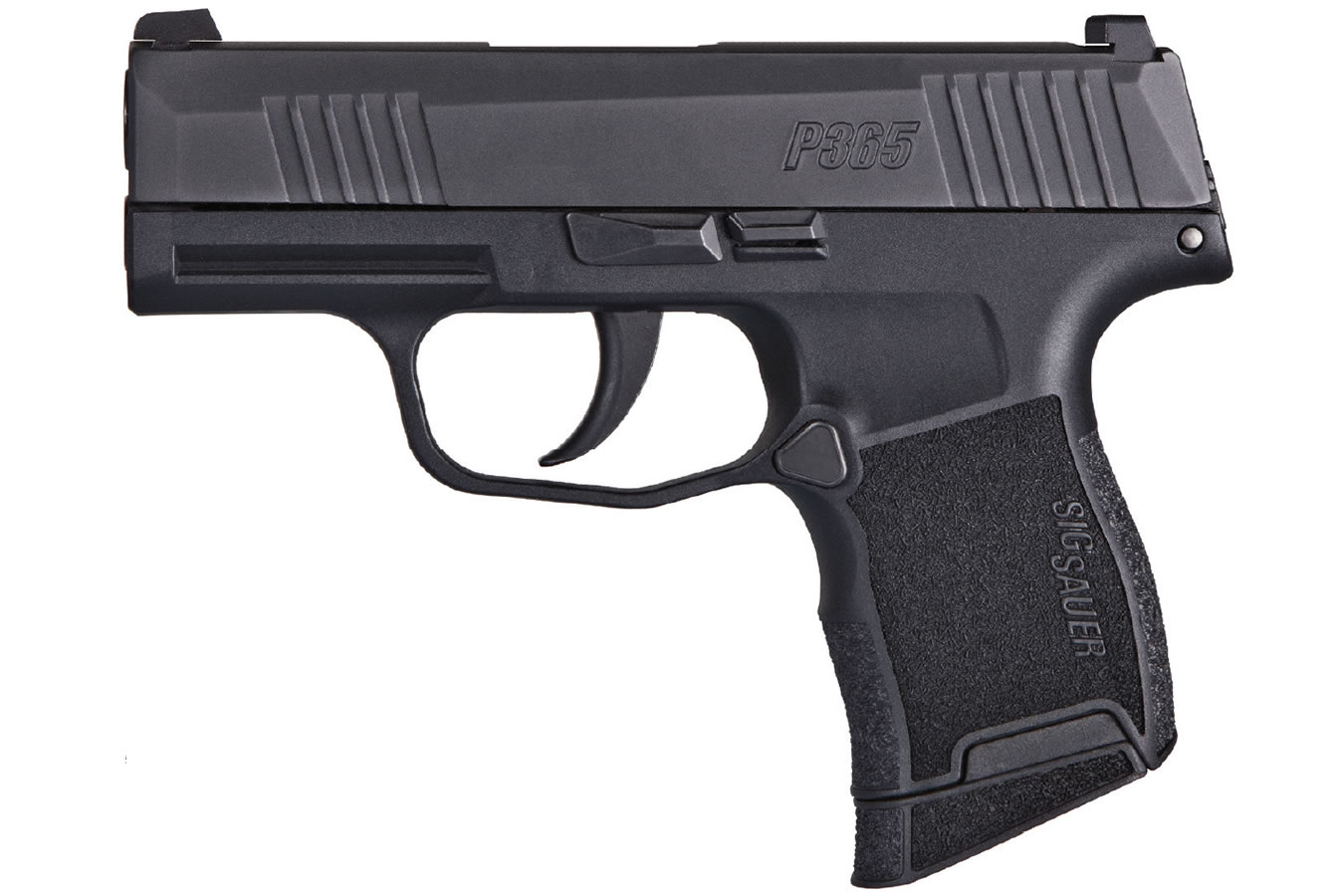 Special Promotion
Buy this firearm from Vance Outdoors and receive these additional items free.
Special order the brand new SIG P365 pistol and get 2 boxes of SIG Elite V-Crown ammunition.
Offer valid on orders placed between Jan 15, 2018 and Mar 31, 2018 while supplies last. Free items are void where prohibited by law. No substitutions. Offer cannot be combined with any other combo offer. Vance Outdoors reserves the right to change or modify this promotion at any time. Offer only valid on items shipped and sold by Vance Outdoors at the listed price.
Description
What's in the Box
Sig Sauer P365 9mm Striker-Fired Pistol
(2) Magazines
(2) Boxes of Sig Sauer E9MMA1-20 Ammo
Cable Lock
Owner's Manual
Introducing the game changing Sig Sauer P365. Micro-compact everyday carry size with unprecedented 10+1 full-size capacity. The P365 is striker-fired, with the clean crisp trigger pull you expect from a SIG. Lightweight and easy to conceal, the P365 is chambered in 9mm and is rated for +P ammunition. Included standard are XRAY3 Day/Night sights, a 10-round flush fit magazine, and a 10-round extended magazine. An optional 12-round extended magazine allows you to bring the total capacity to 13 rounds. The new P365. Bring More. Everyday.
The unique grip design and higher grip to bore axis reduces perceived recoil and makes the P365 as comfortable to shoot as many mid-sized pistols. The grip is fully-textured polymer with a slim-line rail that will accommodate SIG light or laser accessories. The stainless-steel slide comes standard with front and rear serrations for easier slide manipulation, as well as XRAY3 Day/Night sights for faster sight acquisition under all lighting conditions.
Disassembly is safe and easy with a three-point takedown that does not require the trigger to be pulled. A generous trigger guard undercut also allows for a higher hand position and better retention. The narrowing magazine design allows the upper part of the grip to be perfectly contoured to fit the shooter's thumb when fired.
The P365 is a pistol for professionals and civilians alike who want a smaller, high-performance pistol that does it all. This is the ultimate, everyday concealed carry pistol.
Firearm Features
Includes (1) 10rd Flush Magazine AND (1) 10rd Extended Magazine
XRAY3 Day/Night sights
Rated for +P 9mm ammunition
Striker Fired design with a clean, crisp trigger pull
Nitron® Stainless Steel Slide for optimal corrosion resistance
Fully textured Polymer Grip Module for a slip-free grip
Firearm Specifications
SKU: 365-9-BSS
UPC: 798681589067
Model: P365
Caliber: 9mm Luger
Barrel Length: 3.1"
Overall Length: 5.8"
Overall Height: 4.3"
Overall Width: 1.0"
Frame Material: Stainless Steel
Grip Material: Polymer
Slide Material: Stainless Steel
Slide Finish: Nitron
Sights: XRAY3 Day/Night sights
Sight Radius: 4.9"
Magazines: (2) 10-Round Steel Magazines
Weight (without magazine): 17.8 oz.