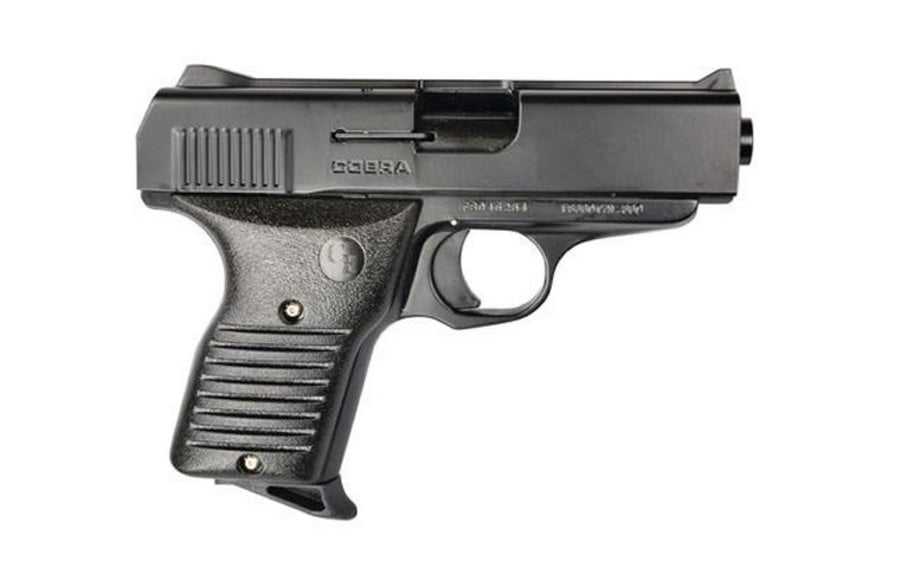 Description
The Cobra FS series is a versatile, elegantly designed firearm. It's pure affordability and attractive style make it one of the most popular firearms on the market today.
Firearm Specifications
Manufacturer: Cobra
Model: Freedon
Caliber: .380 ACP
Barrel Length: 3.5 inches
Overall Length: 6.4 inches
Sights: Fixed
Magazine Capacity: 7
Finish: Black
Weight (empty): 24 oz.
Frame Material: Alloy
Reviews
shiny P.O.S. by Kevin from columbus, ohio
Well the saying you get what you pay for is true with this piece. First three rounds, all jammed. I would save an extra few bucks and go for a better gun. I guess if u miss with the first shot you could throw it. It does weigh over 2 lbs. No "bang for your buck".
Not to bad for the price by Joe from Grove City, ohio
I bought this for home defense. It was on sale. I was a little reluctant at first, price dictates. But I brought out to the range and no problems with it. Put 20 rounds blazer brass thru it and worked great. Down falls, the slide is a little difficult to pull back. Im sure it will loosen up with more rounds thru it. Overall not to bad for 130.
good economy protection by william from cambridge, ohio
faults: little heavy for conseal carry but works ok with a hip fannypack type holster or a purse. the weight helps with any recoil problem you might have with a small gun.

will jam/not fire sometimes with cheap steel case rounds or cheap bulk federal ammo.

the good:

i use premium ammo and had no jam problems.

painted sites with whiteout and rapidfire put 3 out 5 rounds in 5center of milk jug at 45other 2 hit outside edge jug. action handles better with more shooting and use good gun oil.

if you can tolerate the weight, real good gun for the price.good for bedside with personal protection hollowpoints.