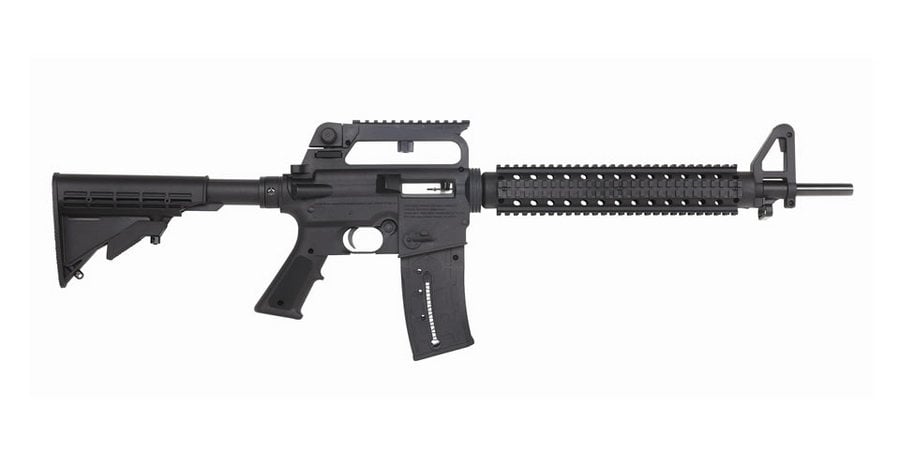 Description
What's in the Box
Mossberg 715T Tactical Rifle
(1) 25 Round Magazine
Magazine Speedloader
Cable Lock
Owner's Manual
These Mossberg tactical .22LR rifles, with the look and feel of AR-style rifles, are based on the proven 702 Plinkster® autoloader platform. The Mossberg 715T has quickly become one of the most popular tactical rimfire rifles on the market, since first introduced in 2010.
Unlike many other tactical .22s, Mossberg has differentiated themselves by going with a A2-style (carry handle) receiver instead of the A3-style. The Mossberg 715T Tactical has A2 front and rear sights, and the carry handle includes a picatinny rail if you want to mount optics.
Most tactical .22s have a 16 inch barrel, but Mossberg decided to go with an 18 inch barrel for a better sight radius and a more traditional look. Also featuring a full length picatinny rail hand guard, adjustable stock and a 25 round magazine.
Firearm Specifications
Action: Semi-Automatic
Caliber: 22 Long Rifle
Barrel Length: 18
Capacity: 25+1
Trigger: Standard
Safety: Lever
OAL: 33.25 - 37
Weight: 5 lbs
Stock: Adjustable Stock
Finish: Black
Reviews
Sweet Riffle by Tony from London, Ohio
I just purchased this Mossberg 715T Tactical 22LR today, Took it to the range and SWEET shooting 1.5" grooping once I got it Scoped in.the only down fall was the 25 round mag sticks when fully loaded - it works better with 20 rounds or less! Man This is a SWEET Riffle
FUN! by John from Grove City, Ohio
I bought this to have some fun with. The sight needed to be adjusted out of the box. The rear sight was all the way to the right and all the way down. No big deal to sight it in but I wish I had known going to the range. I would have taken my laser sight and saved a few rounds.

For the price of the gun and price of ammo, I have gotten more than my moneys worth.
FUN GUN! by Rob from Newark, Ohio
I got this for Fathers Day 2yrs ago. This is the funnest gun in the world for the money! It is not ar15 style built, it is a great shooting cool gun. Great tool for keeping the interest of younger kids in shooting.
NRA Life Member, Keep em shootin
EXREME BARGAIN! by Robert Rogers from BROWNSTOWN, IL
I have shot em all being in my line of work and having been in the military.
For the price the Mossberg 715T .22 LR is actually deady . WHat I mean is that with a 9x40 scope I can hit a target at 200 yards and hold around a 2 inch circle with hollow points! these went right through a 1 inch board from 200 yards and left a nasty opening in the back. Hardly no recoil means rapid fire is high accurate. You can add all your toys onto the rails with no problem.
I have a 4x90 scope, red dot scope,lazer, flash light , front handle, front pod, and I even added a flash suppress for 5$. Comes with a 25 round mag that I put only 20 in for good measure. Adjustable sights and rear stock adjustable for arm proper arm length.
This is serious stuff for a 22 caliber