TAURUS PT-738 TCP 380ACP COMPACT POLYMER PISTOL
View More Products from TAURUS
Item Number: 1-738031FS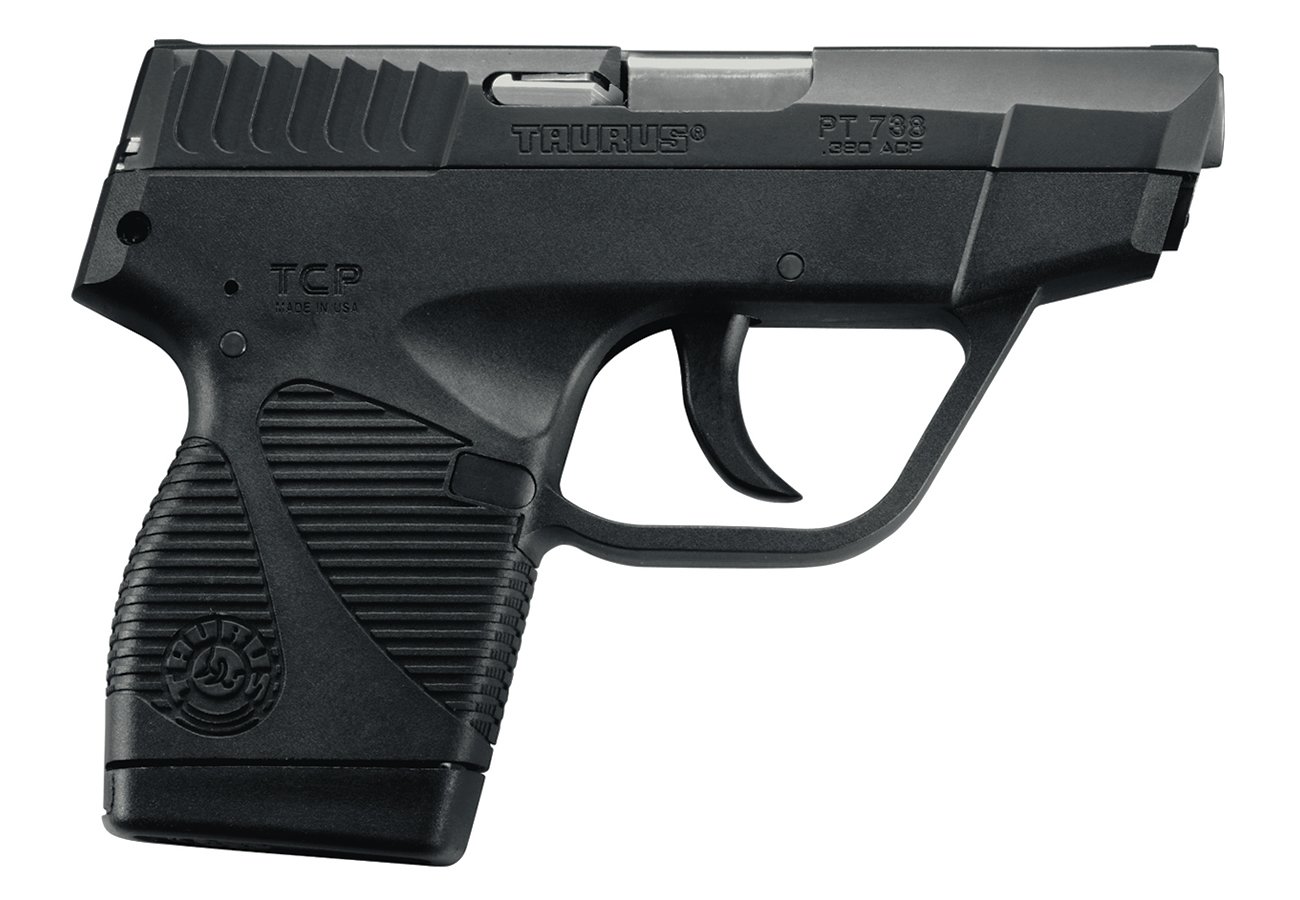 Description
What's in the Box
Taurus PT-738 Pistol
(1) 6 Round Magazines
Trigger Lock Key
Owner's Manual
The PT-738 Taurus Compact Pistol (TCP) is the lightest firearm Taurus has ever created. The 10.2-ounce 738 TCP is not only the lightest semi-auto in the Taurus line; it's lighter than any of their small frame revolvers too. The Taurus 738 TCP is made in the USA and offers 6+1 shots of .380 ACP, a durable polymer frame and low-profile fixed sights.
Additional highlighted features of the Taurus TCP include a loaded chamber indicator for added safety, a unique tread pattern on the slide for positive pull and functioning, and a generously sized trigger guard for quick and intuitive access.
Firearm Specifications
Manufacturer: Taurus
Model: 738FS
Finish: Blue Steel
Caliber: .380 ACP
Grips: Checkered Polymer
UPC: 7-25327-61067-0
Capacity: 6 + 1
Weight: 10.2
Barrel Length: 2.84"
Frame: Compact
Action: DAO
Front Sight: Fixed
Length: 5-1/4"
Trigger Type: Smooth
Order #: 1-738031FS
Reviews
Great Gun by Dave from Columbus, Ohio
My first pistol. Fired 500 rounds with no issues so far. East to clean and easy to conceal and carry.
Crap. by Josh from Columbus, Ohio
This gun is great in a life or death situation only if thats all you can afford. The gun is very snappy, hard to control, and jams with hp almost every time you manually try to cycle a round. A mag extention is almost mandatory. But you get what you pay for. Its a $199 gun!
Very good pocket pistol by Tim from westerville, ohio
I have had the gun for about a year now, I carry it the most. Groups are under 2 inches at 20 feet. I put the trigger guard crimson trace laser on it about 2 months ago and now makes a great nite time carry gun. The only ammo issue has been with round nose flat point bullets. The trigger pull is a bit long but not heavy.
Nice ccw option. by Scott from Cambridge, Ohio
Its a great little carry gun. The later models D model run more reliably.
TCP 380 by Bill from Westerville, Ohio/usa
Love this gun. It shoots straight and doesnt Jam. I have over 500 rounds through it and it has never jammed or give me a ftf. Would highly recommend as a carry gun.
TCP 380 by Barry from Lancaster, Ohio
Trigger has a long pull, but it is very smooth. Great price and very accurate, also has the hold open feature on last round fired. Very easy take down for cleaning. Love this pocket gun.
great gun for money by Ben Harrison from pickerington, oh
I did research on gun gander mtn wanted 350 for gun so vances had it for 150 cheaper put about 500 rounds no jams or misfires only minor complaint is recoil but i got used to it pretty quick love this gun
Great Little Handgun! by Calvin Logsdon from Carroll, Ohio
For $200, this little handgun is worth every penny. Mine has not jammed and I have shot lots of different ammo through it.

Carries so eaaily in a pocket holster, too.

Recoil is going to be snappy. Its a decent caliber in a tiny package. You give to get. If recoil is an issue, there are bigger/heavier .380s available. But, if you are wanting a viable defense option this is a handgun to consider.
Perfect value by Karl from Columbus, OH
Got my stainless slide 738 for $170 and joined the range the same day. Both on specials, along with the ammo. Since there was no ball ammo, I put 100 rounds of Hornady XTPs through it within the next hour or so. No malfunctions, though on a reload when pulling the slide back to drop it, the bullet nose would hang up on the feed ramp. Activating the slide stop dropped it without fail, however. Upon the second range time a few days later, I again put 125 rounds of XTPs through it with no malfunctions. I also went shooting with a buddy who had a G42 .380. Both guns could put a spread fingers hand size on a target at five yards fairly quickly. To say Im pleased is an understatement! This mousegun is cheap, easy to use, hit with, and is dead reliable. As noted by another, this 12.5 oz. loaded weight piece will have a snappy kick and the front sight is vestigial at best. It points well in hand for me at least and, barring the occasional lemon, should fulfill the role of mousegun w
Great gun for the $$ by Zach from Columbus, OH
Just got the gun and put 50 rounds through it. It is snappy but what do you expect when its so tiny and light. The pinky extender is a need with this gun. For what it is Im happy with my pocket rocket.
Reliable Pocket Gun and an affordable price by Tom from Springfield, OH
It does have some fairly significant recoil, but not as bad as say a 357 snubby. Pearce makes pinky extensions, and I am waiting for mine to come to try it out. I have put 164 Rounds through it so far in 3 range trips. I enjoy shooting it. I have ran FMJ Reloaded Round Nose, Winchester FMJ Flat nose, and Hornady Critical Defense. Not a single malfunction. It has a very natural point of aim. The trigger is long, but smooth, not to heavy, and easy to stage at the same spot each time. The thing I really love about it is the magazine is so easy to load. I think this is a god advantage for the female shooter that has issues with loading mags. Worth Noting is to get it to eject a un-fired round requires racking with significant force or the round wont clear and you will get a jam. The slide requires a firm grip to get it to rack, but doable for the ladies with the right technique.
Junk by Zach Hughes from Grove City, Ohio
300 rounds through it. Not a single mag without a misfeed. The pins that hold the frame together work themselves out as you shoot. Inaccurate at 15ft on Ive shot the sw bodyguard and ruger lcp at 15-25ft with no issues
True pocket pistol by Josh from Newark, OH
I bought this last year on sale did my homework serial number ending in C or above has all issues fixed mine was D I have ran 500 rounds of normal ammo and 1 box of HP and not one issue with cycling or shooting at 7 yards you can hit your target....it's not a tack driver.....but it will hit center mass all day I pocket carry this everywhere and also use as a backup cause its that easy to carry
Accurate Mouse Gun by Paul from Roanoke, VA
I did not buy this gun from Vance but I had a good experience with them on a carbine so therefore the 5 on customer satisfaction. The gun is light and snappy. But its purpose is pocket carry. It is tiny and fits in my back pocket in a wallet holster. So train with it and get used to the snap. I did and I am not an expert. Dont expect to run 100 rounds at a time at the range because that would get painful, but 50 is not bad at all. For its size, it is very accurate. If I am careful I can get a fist size group at 10 yards and for the size, weight, and price what more can you ask for Use only brass ammo. Steel will fail to eject. Lube it well. It is not a range gun and it gets dirty quickly. So clean it when you are done. I improved the little sights by adding NiteSiter sight dots. The sights are now like the LCP Custom or Bodyguard. The mags are easy to load and it is easy to rack the slide, as another reviewer said. Get the Pearce grip extension and a grip sleeve - they mak