TAURUS MILLENNIUM PT-111 G2 9MM SUB-COMPACT
View More Products from TAURUS
Item Number: 1-111031G2-12
No longer available. We don't know when or if this item will be back in stock.
Notify me when available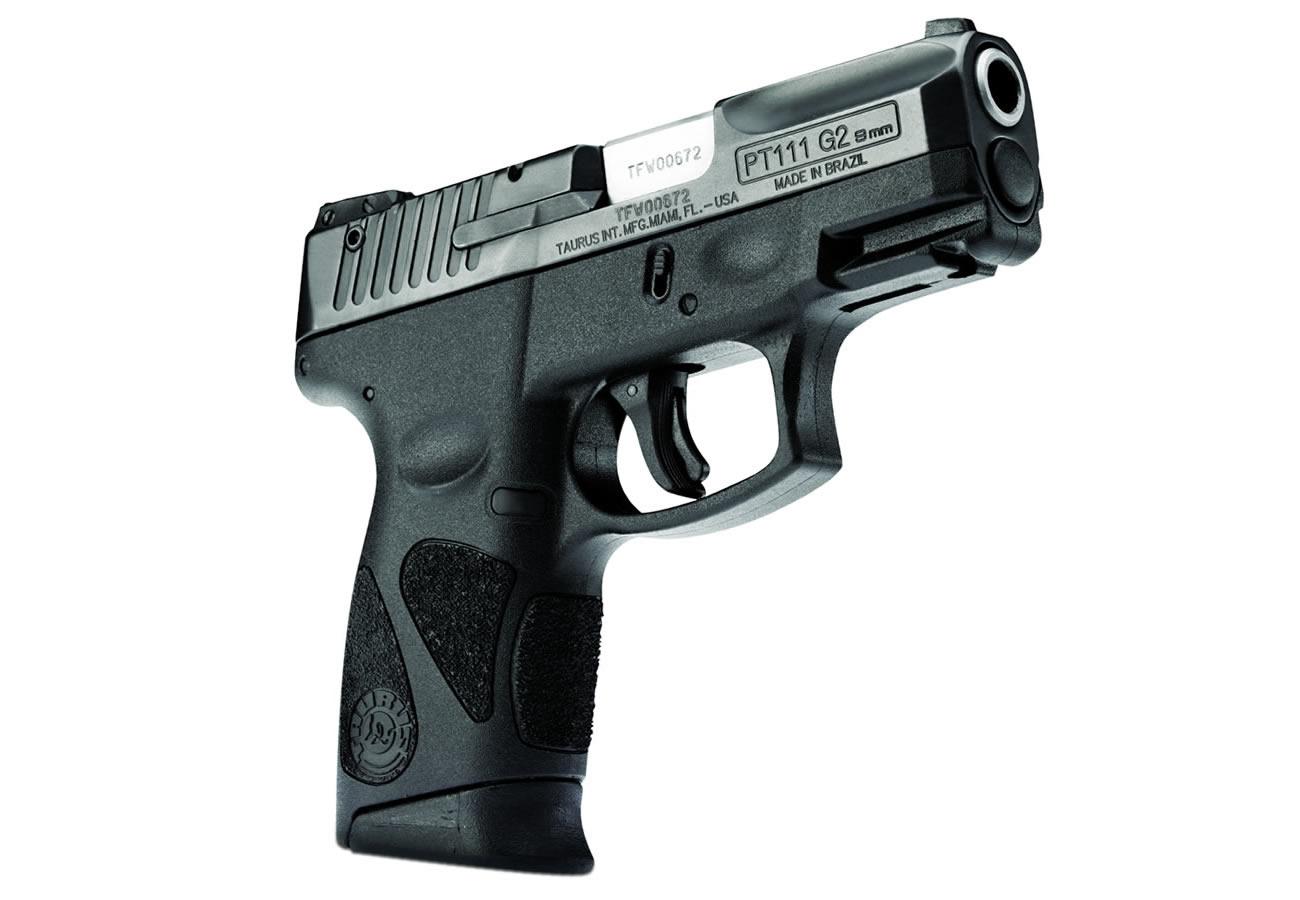 Description
What's in the Box
Taurus Millennium PT-111 G2 Pistol
(2) 12 Round Magazines
Trigger Lock Key
Owner's Manual
With its lightweight 22 oz. polymer frame, thin profile, and ramped 3.2 inch barrel, the newly designed Millennium G2 from Taurus is the ideal concealed carry handgun. The PT-111 Millennium G2 features an accessory rail, high-profile sights, an aggressive, textured grip and melted edges for added comfort and easy concealment.
Firearm Specifications
Model: PT-111 G2
Finish: Blue
Caliber: 9 mm
Capacity: 12 +1
Weight: 22 oz.
Barrel Length: 3.2 in
Frame: Compact
Action: SA/DA
Front Sight: Fixed
Length: 6.24 in
Safety: Loaded Chamber Indicator Manual Safety Manual Safety Taurus Security System Trigger safety
Order #: 1-111031G2-12
Rear Sight: Adjustable- 2 Dots
Reviews
Smooth Shooter by Bob from Columbus, Ohio
I am new to pistol shooting...2 years experience. I have shot numerous 9mm handguns, sub compacts. I find the millenium G2 to be accurate, highly dependable, manageable recoil, and backed by Taurus lifetime repair policy. Excellent pistol for the money. Good for beginners and conceals easily. Economic to shoot also. Easy to field strip and clean. Gets very good ratings on You Tube.
Cant beat it for the price by Daniel from Grove City, Ohio
I picked one of these up because of the price and good reviews I read. I have a few other 9mm pistols including the S&W Shield. The build quality is almost right on par with the Smith, its a bit wider but feels great in your hand. The trigger pull is decent, nothing special but not bad. The fact that it holds 12rds is really nice, my Shield is a .40 and only holds 7rds...the 9mm holds 8rds. For a mere $200 on average $140 less than the Shield you wont find anything else at this price thats a better buy.
Great gun by Roy Ickes from Uhrichsville, Ohio
I have fired over 500 shots through this gun and Ive never had a single issue with it. The trigger is much better than any factory Glock. The recoil is manageable even with one hand. The adjustability of the rear sight is a great feature that most guns in this price range dont have or the double strikers.
really by joe from westerville, ohio
Really $199.00 That is what I thought the 1st time I saw the price for the pistol. Over a year and a 1/2 ago you couldnt find one. So I got a Shield instead. Then Vances had them at $259.00, I thought great I bought one/ Shoots great, felt great, good deal right. Now they got a special for $199.00 so I bought another for the other hand. Are you kidding me I think Ill buy a 3rd just because I can. Really 3 great carry pistols for the price of one any other sidearm. Really The answer is yes.
Very surprised by Tim from Columbus, Ohio
I bought this gun both for the crazy low price, and from the good reviews online. I did not need this handgun as I have other ones for carry. It feels great in the hand with a full yet thin grip for a double stack. Two 12 round mags plus one in the chamber. No problems at all, and it is now in my carry rotation. Highly recommend.

Sales department is very helpful and will answer your questions.
pt 111 super buy by erving from columbus, Ohio
I bought one love it. My friend bought 2 great gun super price
Now a Taurus fan by Brian from Canal Winchester, Ohio
I have not bought a gun in over thirty years. I used to shoot a2 to 3 times a week, and owned about 30 guns, mostly pistols. I,didnt like Taurus, or,automatics. I,was a Smith & Wesson fan. After buying the PT111 Millinium I am now a fan of both. I low the way it handles, very accurate, compact and light. I highly recommend this weapon, especially for someone that is new to shooting
Pt111 G2 by Joe from Mt. Sterling, Ohio
I have owned this pistol for about 10 months and I have shot it over 1000 rounds with 0 problems.

The trigger took some getting used to ,it breaks all the way to the rear.

It has a tough finish and a very nice grip.
Extremely Satisfied by Tom from Columbus, Ohio
This is my first pistol so I dont have a lot to compare it to. But I can tell you that it is accurate, easy to break down and light and will be my every day carry. The grip is very comfortable. For $199.00, the only decision is should I get another one.
Quality handgun by Sean from Columbus, OH
I bought this gone because it was $199 and the only complaint I had was the trigger pull on the first shot. Other than that it out performed my Ruger SR9 which I paid $449 for and my Ruger LC9 which I sold because I hated it. I carry this gun daily and have shot 100 rounds with no issues. I know Taurus has had some issues in the past but they definitely redeemed themselves with this gun. You cant beat the price for a gun that competes with $400 to $500 hand guns. Very accurate, light, 12 capacity Mag plus 1 in the pipe and very comfortable to conceal. Its a no brainier if you dont own one get one.
Great Pistol by Marc from Columbus, ohio
This is my first pistol that i have bought and i love it just got to fire it the other day at the obetz Vance location i sent fmj and jhp both 115 grains and no failure to feed or ejection issues the grip is great as well
The $200 Glock is here by Sean from Columbus, Oh
Bought this fun for $199 and figured it would perform as such. I was dead wrong. This gun performs as good if not better than its higher cost competitors. It reminds me a lot of the Glock. Easy to conceal, great construction, high capacity magazine 12+1, great accuracy and low recoil. I have fired 300 rounds thru the gun using various ammo with no issues. Only complaint I have is the long trigger pull but once you get use to it you forget about it. I owned a Ruger LC9 that I paid close to $400 and I sold it because I absolutely hated it. The Taurus is much better and out performs it. I also own a Ruger SR9c which I absolutely love but yet I carry the Taurus daily because it conceals easily and shoots great. You cant go wrong for the price. In my opinion this is the best gun you can buy for under $300 hands down.
Great gun by Troy from Grove City, Ohio
I have fired over 1200 rounds from mine since new and I havent had any problems. Its simple to break down and clean and appears to be the workhorse of semi auto pistols. You cant go wrong with this gun.
A steal!!!!! by Michael from Mechanicsburg, Central Ohio
Feel like I committed a crime buying this gun for $199.99 at Obetz Vances location. Gun shoots, feels and looks amazing. Have pistols that I have paid 3 times as much and like this one better. Don't hesitate buying this gun. By the way, Tom the sales guy that waited on me was full of knowledge, info and terrific. Thanks Tom.
While supplies last by Will from Lewis Center, Oh
Was at Vance's one day and saw this gun for $199 and googled its reviews. Based on what I read I bought it immediately. Figured it would be decent, but didn't expect it to be anything to brag about. I mean come on, the gun is priced in the range of the Cobras and Hi-Points. Well, I was dead wrong. Put about 800 rounds with zero hick ups and at 15 feet I had about a 2 to 3 inch grouping. Everything about this gun is as good, if not better than its pricier counter parts. My friend shot this and liked it better than his Glock 19. After much research, I realized why the price is so cheap. After a devastating lawsuit, Taurus fixed the issues and to market their name again they re-vamped this gun and lowered the price to earn the trust of consumers. This gun would retail around $399, so if you want one, get it now while supplies last, because it wont be this cheap for long. Only negative I can give is the long trigger pull, but you can get use to it. Great carry gun. Compact, 9mm,
Cheaper M&P by Seth from Westerville, OH
I owned an M&P shield for 2+ years but after seeing a price of $220 and reading reviews about this gun online, I had to sell my M&P. This gun is much more ergonomical than the Shield; it fits much more comfortably in your hand than the Shield, shoots better than the Shield, holds more capacity than the Shield, and overall performance was better than the Shield. You will read a lot of negative reviews about the trigger pull on this gun. People say it is way too long a trigger pull, and they're partially right. The trigger pull is very long, but the trigger reset is quick and effortless. I put multiple rounds on target with practically no effort at 15 yards shooting a plate sized target. Complaining about trigger pull is something I'll leave to the gun snobs, it does not affect accuracy in this gun whatsoever. In addition, the field strip and cleaning is a breeze with this gun. It also comes with a lifetime unlimited warranty which you can't beat except maybe hi-point but I digress.
The best at its price point! by Eugene from Columbus, Ohio
At its price point, everyone on a budget should pick up the PT111-G2 $219 or PT-111G2 Combo w/ Viridian Red Dot Laser $269. Unboxed it, ran through 3 mags of A.E Blue Line 9MM FMJ. No FTEs, no FTFs, and the laser is amazing! I'm well beyond pleased.
Budget Gun by J.Doe from Columbus, Ohio
It's not a shield, but it's better than a Hi-Point. It's a budget gun that is cheap enough to have for a truck side arm or home self defense. The best thing; it holds about twelve rounds. It's too bulky for CHL to me but if you have two and a quarter to spare and you need a semi-auto 9mm, it's an option. I fired a few boxes at a time and I could smell the melt down. Let it cool down and it works just fine. I was impressed because it held up but it was not meant to be a work horse anyway.
great ccw gun by J from Ashville , Ohio
The size and weight of this gun is perfect. Ive had it over a year now and have no issues at all. So reliable I referred it to my son for his carry gun and he loves it. I put a Armalazer grip activated sight and works great. I carried this sub compact all the way to Colorado and back and also Florida and back. Amazing weapon.
GREAT LITTLE GUN!! by Ed from Somerset, Ohio
What a deal!! $199.00 + tax. I took this gun home and fired about 200 rounds through it, of 6 different kinds of ammo: 115 and 147 gr Speer lawman FMJ, 115 gr Magtech, 124 gr FMJ Monarch JHP,Geco 115 gr FMJ, blazer brass 115 and 124 gr. FML. It shot them all without the one problem. Very smooth shooter. The only thing I didn't like was the mags have a really stout spring, very hard to load, hope it gets better with use. Very happy with this gun, shot pretty nice groups to BTW. get it, you will like it.
Taurus G2 by Dennis from Circleville, Ohio
Concealable, accurate and good fit/finish. Have had feeding problems due to magazine sagging. Always occurred during a tactical reload from when releasing locked back slide using hollow point ammo.