HI POINT C-9 9MM PISTOL
View More Products from HI POINT
Item Number: 9MMCP
$199.00
Sale Price: $119.99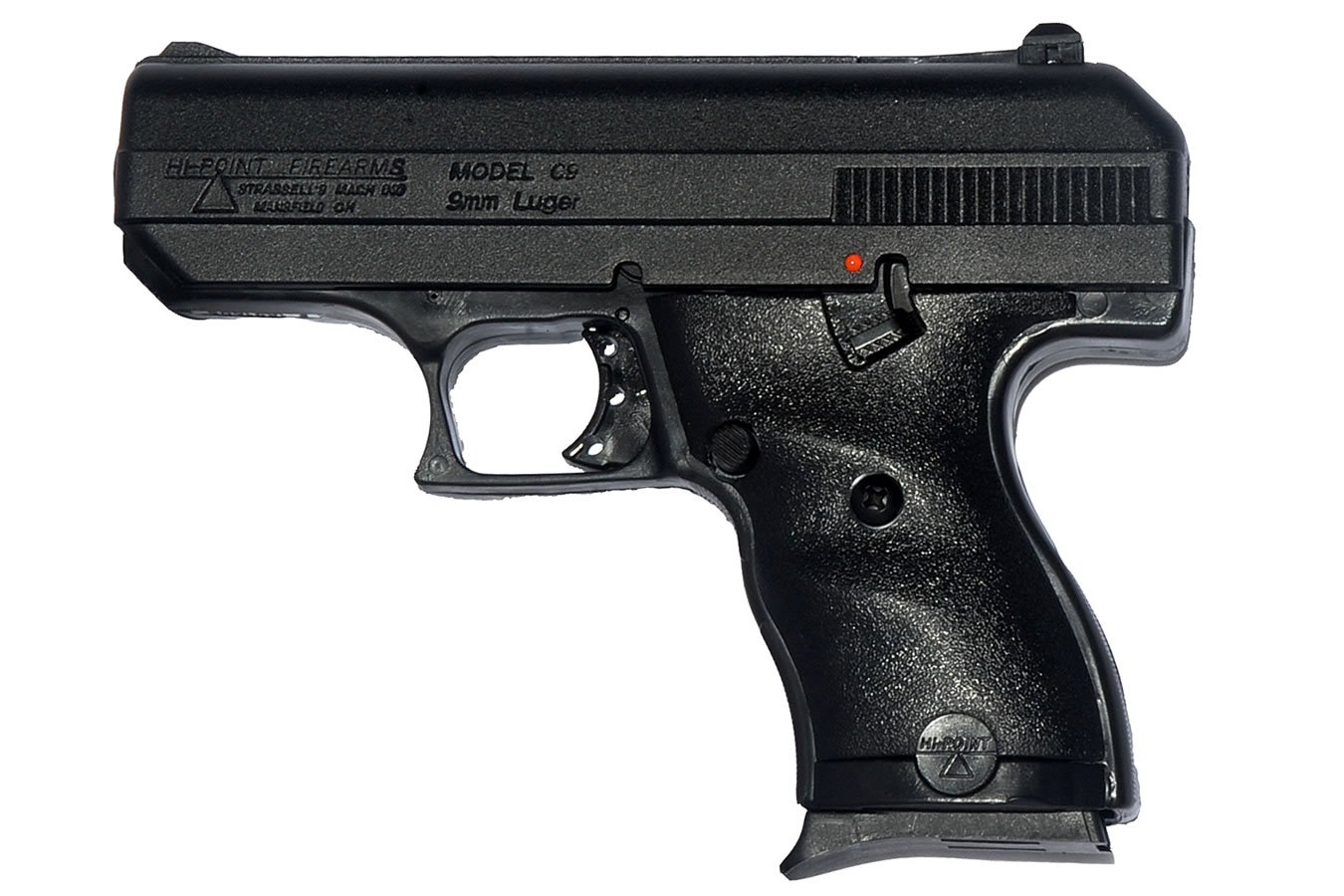 Description
What's in the Box
Hi Point C-9 Pistol
(1) 8 Round Magazine
Trigger Lock
Ghost Ring Sights
Sight Installation Instructions
Owner's Manual
Hi-Point offers affordably-priced semi-automatic handguns in a range of the most popular calibers. Each is sized to assure a firm, comfortable grip and exceptional recoil control, and includes Hi-Point's lifetime unconditional warranty. Hi-Point handguns are +P rated and accept all factory ammunition. Additionally, every Hi-Point handgun model features:
Hi Point pistols are illegal for sale in the states of Illinois and Minnesota due to "melting point" laws.
Polymer frame
Durable, attractive easy-grip finish
Last round lock open
Quick on-off thumb safety
Operations safety sheet
+P rated
Free extra rear peep sight
Free trigger lock
Lifetime warranty
100% American-made, parts and assembly
Firearm Specifications
Barrel length: 3.5 in.
Overall length: 6.75 in.
Weight: 29 oz.
Frame: High-impact polymer
Finish: Black powder coat
Capacity: 8-shot magazine standard
Sights: 3-dots, fully-adjustable rear sight
Reviews
Good for the price by Chris from Columbus, Ohio
Gun shoots good, its only jammed on me one time. Bought to have gun in house for defense, but since have gotten my concealed carry and the only real drawback to the highpoint is how heavy it is. There is no way to carry this gun comfortably.
highpoint 9mm by thomas from columbus, ohio
very good gun will buy 45 next
Basic-No Nonsense 9MM by Raymond from Columbus, OH
This was a handgun purchased to have fun. I have 2 other 9MM pisols. It has had a small number of failure to feed FTF issues, but after additional cleaning and careful lubrication, these have dropped greatly. When broken in, I expect near 100 % reliability. These are made in Ohio and have a LIFETIME warranty. You can order 10 rd magazines in Ohio. Worth more than the price. NOTE: This is NOT a carry pistol, but reasonably accurate and reasonably reliable gun.
Decent first gun by ERIK from Delaware, Ohio
The C9 was my first handgun purchase. For as cheap as it is, it is not bad at all. Disassembly for cleaning isnt terribly bad once yu have done it once or twice. Had a few FTF when first took out to the range, but has not jammed at all since. Slide is easy to grip because it is so big, however, the slide size adds a lot of weight to the gun. Overall, Im happy with it for the 139 spent.
nice piece by Michael from Lima, Ohio
This weapon feels good for a Hi Point. it shoots well although the factory sighting needs some tuning. The clip tends to hang up. But for the money it is a nice pistol.
Amazing Pistol for the Price by Pete from Groveport, OH
I bought my C9 at the recommendation of a friend, thinking that, even if it sucks, its 140. I couldnt have been more wrong. I have put 1000 rounds through it and have had one FTF, and that one I did on purpose wondering how limp-wristing the weapon would affect the performance. I recently picked up the .45, and have 200 rds through it, and have had 2 FTFs. As an aside, I bought a Kimber .45 and had 8-10 FTFs in the first 300 rounds. These are not cheap guns, they are inexpensive guns. The quality is there, just not at the big name price.
Nice HandGun by Mike from howard, ohio
The C9 9mm shot well right out of the box. Passed my CCW with the C9. Nailed the bullseye several times. Fired 150 rounds and had only one jam. Once I break the gun in I hope to have no jams. Great Gun for the price. Fired 9mm that cost a lot more and I did not like them as well as the Hi-Point C9 9mm. The grip fits the hand really well.
Great 9MM by Michael from Howard, Ohio
The Hi-Point C9 9mm is a great hand gun. Hits the Bulls Eye at 20 feet 7 out 10 times. Have put over 1000 rounds through it and had only 1 jam. Have fired much more expensive 9mm and not near as nice or well made, and can beat the price.
Not bad gun for the price by jim from marysville, ohio
I bought this gun for conceal carry but not going to work for that. Its to heavy and a little bulky. But still a decent gun. Have had 2-3 FTF/ Jams in about 150 rds. Need something reliable, will keep looking..
luger c9 by WILLIAM from Heath, OHIO
9mm gun works well. just bought the gun 3 days ago. have only fired it around 300 times this weekend and no FTF. Hand grip on it feels good, but the weight of the gun is a bit more than i anticipated. Shoots well. Hit the target with no problem. Bought it for home defense and in my opinion works well for what it is needed for. Recoil on the c9 is not bad at all. I will use it to get my CCW. Very easy to use and i would recommend it.
HP .C9 by Ron from Grove city, Ohio
Went to Vances today. Out of stock,put deposit down.cant wait tell it comes in.
Satisfied by Frank from Columbus, Oh
At first, I had a lot of failure to feeds. After a good lube job and only putting 5 rounds in the magazine, it performs as well as more expensive guns. It is bulky and heavy so not so good for concealing but is great at the range. I would buy another.
Better Than Expected by Gary from Gahanna, Ohio
Read all the reviews before I bought. The gun operates better than expected or reported. It is heavy but maybe that contributes to the low kick.
My c9 by Bryon from COLUMBUS OH., Ohio
I got the gun becouse of the price even though I heard some things about it jaming all the time ,but was suprised it was fairly dependable I find if you use the 115 or the 124 grain rounds it works its the slide as heave as it is you need a hot load
My c9 by Bryon from COLUMBUS OH., Ohio
I got the gun becouse of the price even though I heard some things about it jaming all the time ,but was suprised it was fairly dependable I find if you use the 115 or the 124 grain rounds it works its the slide as heave as it is you need a hot load
Just awesome! by Juan from College Station, Texas
I have other much more expensive 9mm handguns. I bought this one for fun hey! for $150 theres nothing to lose. This is a great fun gun to shoot. Amazingly accurate, you will impress other people at the range with their $1500 gun. I hate when people complain about how heave it is, Its a blow back! for crying out loud! it needs to be heavy!