HORNADY 45-70 GOVT 325GR FTX LVREV
View More Products from HORNADY
Item Number: 82747 BX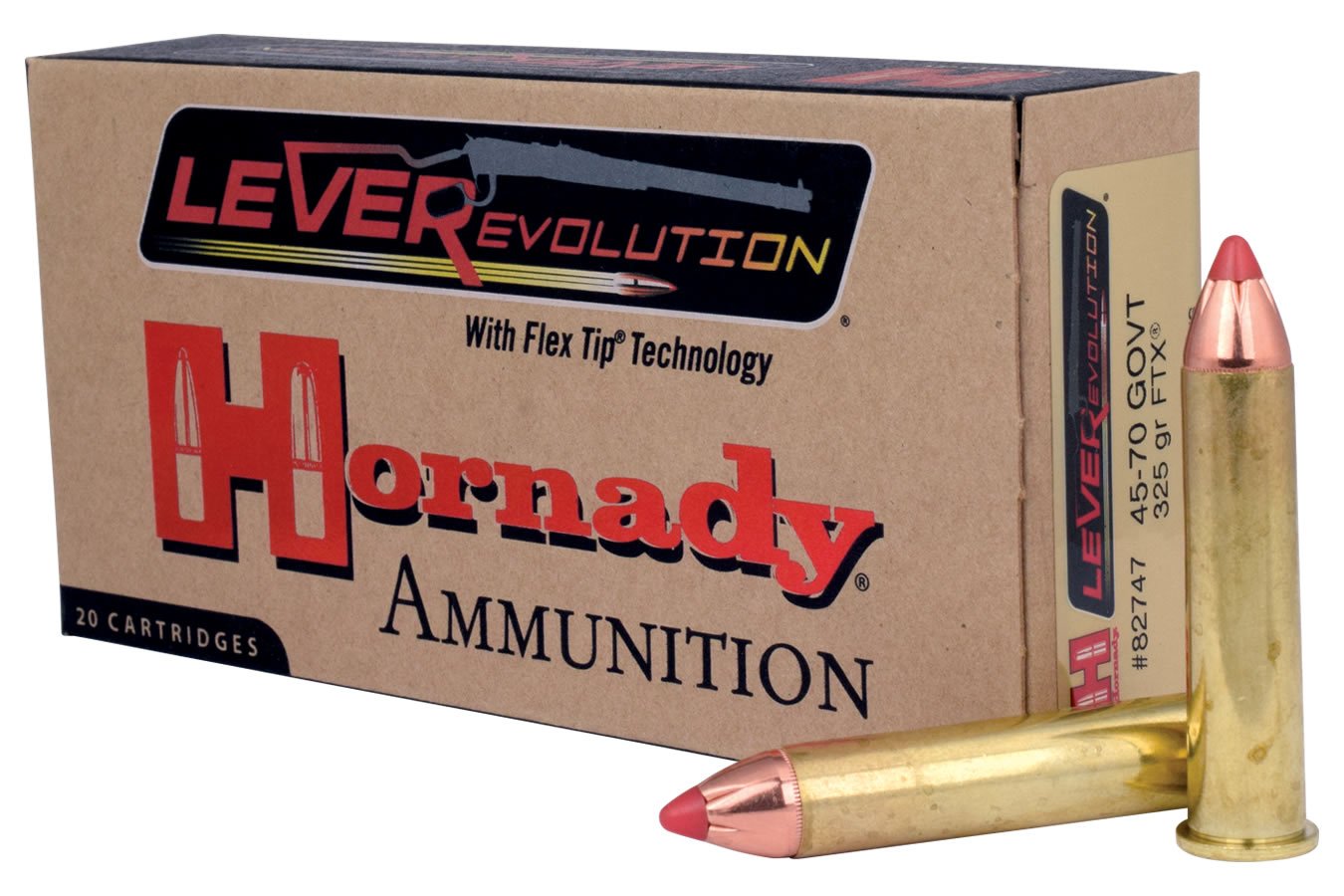 Description
Ammo Specifications
Caliber: .45-70 Government
Item Number: 82747
Bullet Weight: 325 gr.
Bullet Type: FTX (Flex Tip eXpanding)
Product Line: LEVERevolution®
Quantity: 20 rounds per box
LEVERevolution is the most exciting thing to ever happen to lever gun ammunition. Hornady, the leader in ballistic technology, brings you an innovation in ammunition performance featuring the state of the industry patented, FTX (Flex Tip eXpanding) bullet that is SAFE in your tubular magazine. Its higher ballistic coefficient delivers dramatically flatter trajectories for fantastic downrange energy increases and amazing bullet expansion at all ranges.
Up to 250 feet per second faster muzzle velocity than conventional lever gun loads.
Exceptional accuracy and overwhelming downrange terminal performance.
Patented FTX bullets feature Flex Tip Technology.
Up to 40% more energy than traditional flat point loads.
Reviews
Nor for Henry rifles by Marty Tomlinson from Blacklick, Ohio
I used these in my Marlin and they cycled OK. Compared to what is available in this caliber 45-70 you might as well carry a 30-30. Not really all that potent when compared to a 450 grain hard lead bullet. These cartridges are too long to cycle properly in the Henry 45-70. If you look on Henrys site, they tell you that. I had to cut the red plastic tips off of the bullet to use them.
Awesome ammo by Jim from hamilton, ohio
I use this in my Marlin 1895 and the accuracy I get is phenomenal. I can consistently shoot clovers at 100 yards. I took a whitetail at 230 yards last year with it. 1 shot did the trick. Would definitely recommend it to friends.