MOSSBERG 88 SPECIAL PURPOSE 12GA SHOTGUN
View More Products from MOSSBERG
Item Number: 31046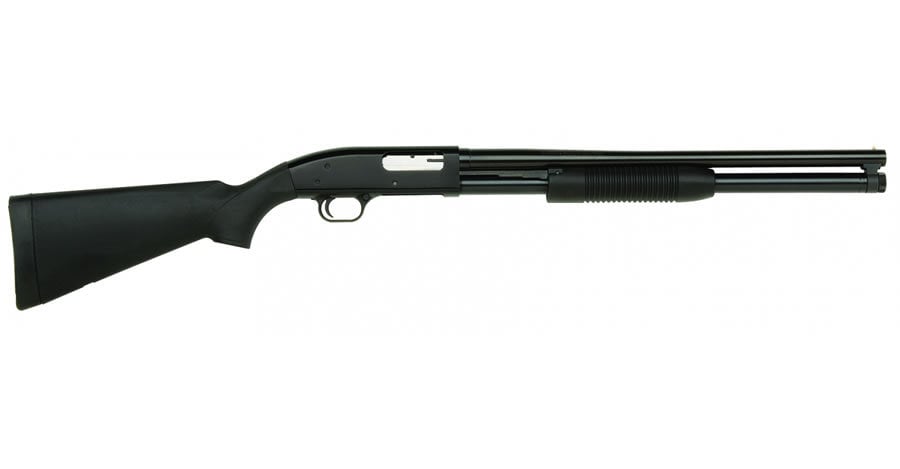 Description
What's in the Box
Mossberg 88 Special Purpose Shotgun
Cable Lock
Owner's Manual
Known as the workhorse by those who spend their weekends in the field or at the range, the Maverick has established an enviable reputation. Affordable hunting, and security shotguns known around the world for performance and value.
Firearm Specifications
Gauge: 12 GA
Barrel Length: 20"
Capacity: 8
Chamber Size: 3"
Overall Length: 41"
Weight: 7 lbs
Stock: Black Synthetic
Barrel Finish: Blue
Sights: Bead
Chokes: Cylinder Bore
Length of Pull: 14.5"
Reviews
Good Shotgun by Vandy from Grove City, Ohio
I like the the feel and design of this shotgun. Very comfortable to handle. It is not rifled but it is accurate at short to medium range. Easy to get on-target and hold it. I have been putting 3 slugs through it and it kicks like a mule but that is more the shells than the gun. As I recommend this gun with a five-star, remember everything must be used for the proper use.
Best in show for the dough! by Gale from Columbus, Ohio
You just won't find a better pump-action for $250 or less brand-new, not unless you really hunt around for a while. I'd recommend a softer butt pad if you're going for a range day with this. It's very light and manageable, but will beat your shoulder up running 12G 00 Buck shot. Any shotgun will.
A MUST BUY by Randy from Lithopolis, OHIO
Didn't give 5 stars as I felt badly for those who paid thousands of dollars for their home defense shotgun. Yes, I know it is NOT a semi-auto, yes, it is only $200 and YGWYPF, but given these shortcomings, this SG is an amazing buy for what it do and its use as a home defense gun. I put the pistol grip on it that it comes with and although its harder to handle this way, its shorter line in smaller spaces makes it worth doing. Clean throws on re-loads, lighter weight and shorter line w pistol grip, a SG to own as primary or secondary back-up. A no brainier purchase.
Great performance can be affordable! by Gale from Columbus, Ohio
I upgraded to this model from an H&R Pardner Pump. The thing weighed a metric ton, but worked well. This is significantly lighter, and boasts an impressive 7 shell capacity with 2 3/4 standard size shells. Can accept 3 inch magnums! Performs excellently. I trust my home to it. You could, too.