SMITH AND WESSON 642 38 SPECIAL REVOLVER
$469.99
Sale Price: $319.99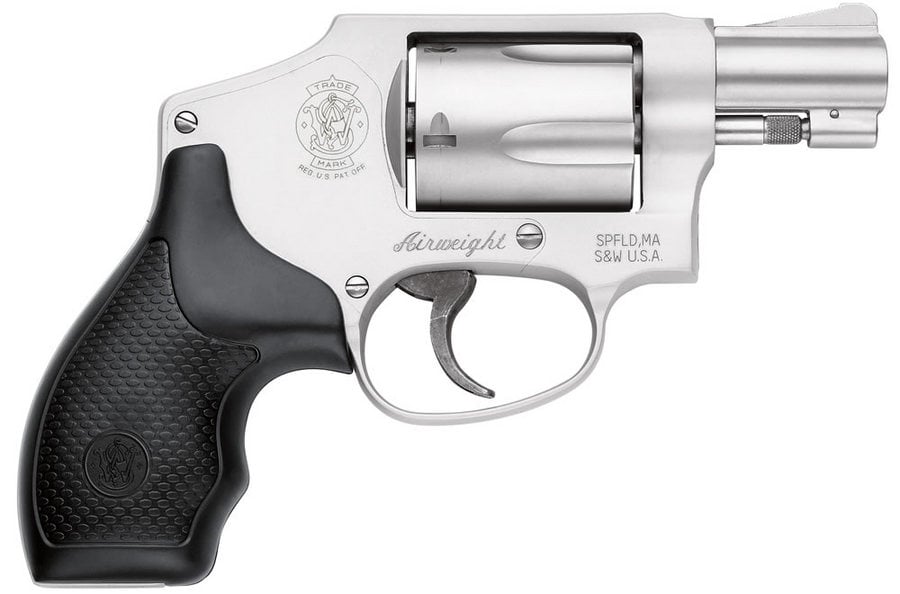 Description
What's in the Box
Smith & Wesson Model 642 Revolver
(2) Safety Key Locks
Cable Lock
Spent Casing
Owner's Manual
With decades of reliable performance to its credit, Smith & Wesson's 642 J-Frame remains among the best and most popular small-frame revolvers on the market.

Firearm Specifications
Caliber: .38 Special +P
Capacity: 5 Rounds
Barrel Length: 1.875" / 4.7 cm
Sights: Integral Front and Fixed Rear
Grip: Synthetic
Action: Double Action Only - Internal Hammer
Finish: Matte Silver
Overall Length: 6.31" / 16.0 cm
Material: Aluminum Alloy Frame and Stainless Steel Cylinder
Weight Empty: 15 oz / 425.3 g
Purpose: Personal Protection / Professional / Duty
Reviews
CCW w/642 by Jim from Pickerington, OHIO
Hides well and it is lite. Six oclock hold at 7 yards, dead on at 14 yards.

Could not ask for a better hideout gun.
Great For Conceal and Carry by Josh from Madison, IN
Fantastic for carrying in pocket using a pocket holster. Can be drawn quickly and smoothly. For a small gun, the 38 Special ammo for self defense is more than adequate in my opinion. The gun does have a lot of recoil for a hand gun and because of the short barrel may not be that accurate at long distances, but for conceal and carry I think its a hard gun to beat.
Perfect CCW by Joel from Akron, Ohio
This revolver is the perfect CC weapon. It hides well and is light. I don't even know it is on me and occasionally feel for it just to be sure. It is not a range gun - after about ten rounds the recoil is felt in your hand. But it should not be purchased as a range gun. As a conceal weapon, you cannot go wrong.