BERSA THUNDER 380 CC .380 ACP CONCEALED CARRY
View More Products from BERSA
Item Number: THUN380MLTCC
$352.00
Sale Price: $269.99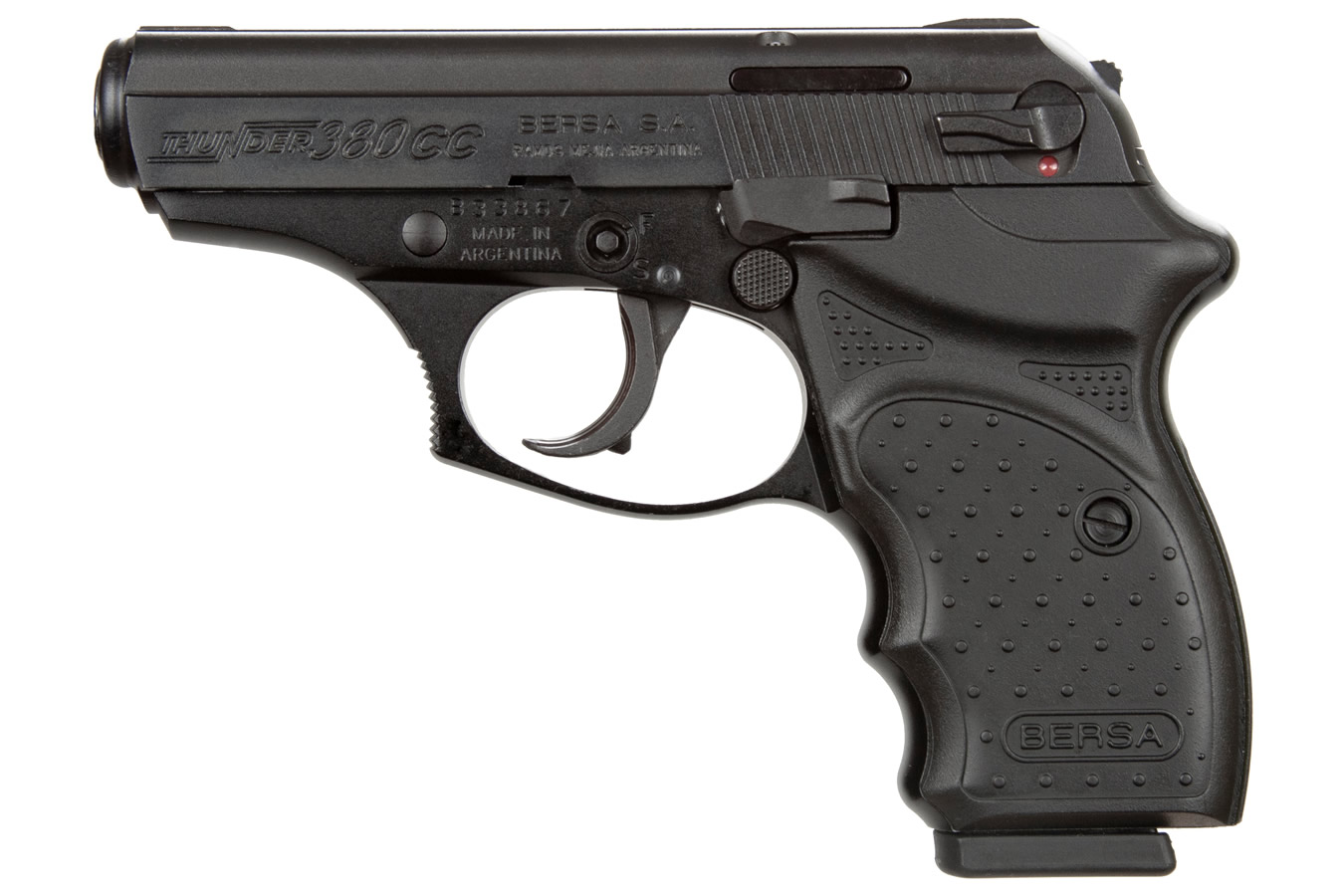 Description
What's in the Box
Thunder 380 CC Pistol
(1) Magazine
Trigger Lock Key
Owner's Manual
You don't just get a reputation. You earn one. The Bersa Thunder 380 CC has earned a reputation of reliability, accuracy and durability, and has become a leader among concealed carry handguns. Compact and strong, you'll get enhanced balanced when you need it most.
The ultimate compact .380 D.A. Pistol. This is the perfect .380 D.A. you want for personal protection. It's slim, trim and always ready for immediate action. It out-performs, out-features and out prices all others in it's class. The Thunder 380 CC has become a leader among concealed carry handguns by earning a reputation of reliability, accuracy and durability. Extremely compact and strong, the 380 CC's quality design and engineering provide the shooter enhanced balance during those critical seconds. Features like the loaded chamber indicator, extended capacity magazine and slide sights make the 380 CC a perfect CCW sidearm. At just over a pound, you won't even know you're carrying it. Possessing attributes of more expensive guns, the Thunder 380 CC is truly a personal protection "Best Buy".
Firearm Specifications
Manufacturer: Bersa
Model: Thunder 380 CC
Caliber: .380 ACP
Action: DA/SA
Capacity: 8+1
Barrel Length: 3.2"
Front Sight: Blade Integral with Slide
Rear Sight: Integral with Slide
Finish: Matte Black
Grips: Checkered Polymer
Construction: Alloy Frame / Steel Slide
Safety: Integral Locking System, Manual, Firing Pin
Weight: 16.4000
Length: 6"
Height: 4.6"
Width: 1"
Reviews
A Great Secondary Carry by Brian from Columbus, OH
Purchased one of these after hearing some good things, and seeing some good reviews online. I had never fired one before but it was on sale, which made it a great, almost impulse buy. Overall I like it. Fits well in my hands and shoots pretty great. Accuracy is pretty solid straight out of the box, and having the barrel attached to the frame definitely helps. Low profile sights means you wont snag when pulling from concealment too. 8+1 magazine is nice, as it adds 2 more rounds than a lot of cc 9mm guns. I have found a few cons in my opinion though. First off, the stock grips are pretty awful. The screw is always coming loose and the grips slide around and need to be retightened. A little loc-tite can fix that, but it still moves around a bit and is rather annoying and cheap feeling. Bersa offers alternative grips though, so be sure to check those out. I've had minimal jams, even on the third round straight out of the box, but those seem to subside The more I shoot.
Bersa 380 CC by Gary from Grove City, Ohio
Picked this up Dec 1st on sale. I have not shot it yet. I will do another review after that. I purchased this gun based on other reviews on YouTube and the net. I like the look and feel. Still a bit heavy though. It can fit in your jeans pocket if needed. Loading the clip the first time was also rough. Cartridges just did not seem to go in smoothly. I also very lightly lubed the clip. The package isn't spectacular. Gun, 1 clip, basic plastic case. The case is cheap and I don't like the style. The tabs to open are funny, they are a bit difficult. The gun does fit securely in the case, it moves around very easily. Upon 1st inspection of the firearm, it appeared dry. Movement of the slide was very rough, not smooth. Clip release button was very sticky. The feel of the clip being released was also rough. Took the gun apart and oiled it up well, wiped it down. Everything moved, released or slid a bit better but still not smoothly.
Bersa 380 CC by Bob from Sabina, Oh
A lot of good thought has went into the weapon. Great Concealed carry, even for a lady. Safety is great, with a round chambered and at the ready with the safety on the trigger assembly is disengaged a great safety feature. When storing it, a lock key built into the weapon, in case of children are near. Red indicator on the left side of the weapon when the magazine has a live rounds, advising the user that the weapon is in a shooting mode. Good feel of the grips shoots well, great concealed carry weapon for man or woman.