RUGER SR22 22LR RIMFIRE PISTOL
View More Products from RUGER
Item Number: 3600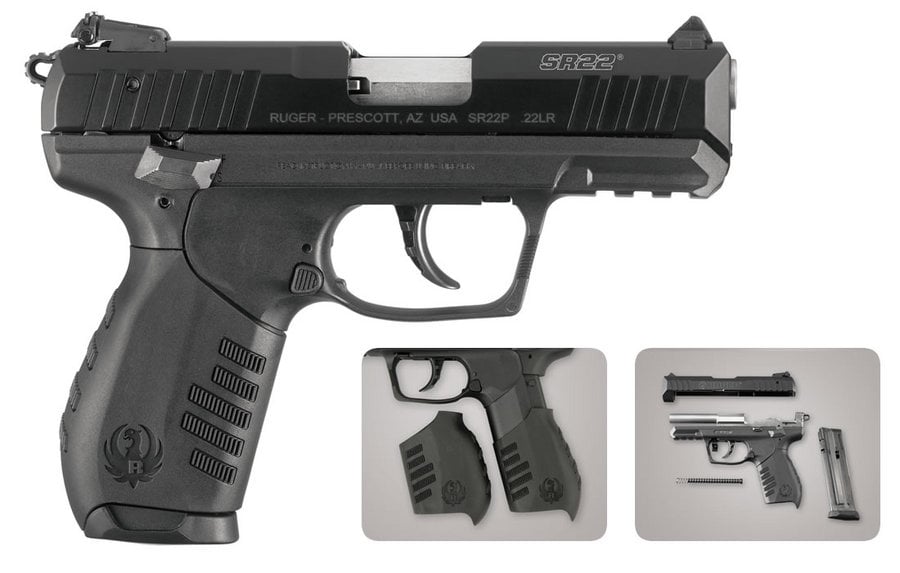 Description
What's in the Box
Ruger SR22 Pistol
(2) Magazines
(2) Finger Grip Extension Floorplates
(2) Interchangeable Rubberized Grips
Gun Lock
Packed with versatile features, the SR22® is lightweight (only 17.5 ounces) and perfect for just about anything - plinking, target shooting and even small game hunting. It is easy to field strip, fun to shoot, and will run reliably with a wide variety of ammunition (not just high-velocity ammunition).
Firearm Features and Specs
The SR22 has light double-action and crisp single-action trigger pulls. Its external hammer is designed with a rounded spur for easy cocking and single-action shooting. The SR22 features a polymer frame and two interchangeable (no tools required) rubberized grips with angled serrations, allowing shooters to select either a slim or wider palm swell option. The aerospace-grade aluminum slide has serrations on both front and rear for better grip and slide manipulation. The easy-to-use underside Picatinny rail features multiple cross slots for variable mounting of most popular accessories.
The 3-dot sight system has a fixed front sight and a rear sight that is adjustable for both windage and elevation. A reversible blade allows shooters to select two white dots or a solid black blade. Other SR22 features include a stainless steel replaceable barrel, an ambidextrous manual thumb safety/decocking lever, ambidextrous magazine release, plus a visual inspection port to determine the load status of the pistol. The SR22 includes two finger grip extension floorplates that can be added to the magazine for comfort and grip. Each SR22 is also shipped with two 10-round magazines.
Catalog Number: SR22PB
Model Number: 3600
Caliber: 22 LR
Capacity: 10+1
Rate-of-Twist: 1-in-16
Finish: Black Anodize
Grip Frame: Black Polymer
Slide: Aluminum
Frame: Black Polymer
Sights: Adjustable 3-Dot
Barrel Length: 3.5"
Overall Length: 6.4"
Height: 4.9"
Width: 1.29"
Weight (empty): 17.5 oz.
Related Videos
Reviews
WHat a Fun gun to shoot! by Deuce from Pataskala, Ohip
Ruger has a real winner here. A super fun .22 that will keep you occupied for hours, or until you run out of ammo!!! Smooth reliable Ruger action, great feeling grips, a really nice set of sights and all in a small easily carrie d package. You wont be disappointed!
Great Gun by Al from Marion, Ohio/central
I was looking for a gun that my wife could shoot, since she has very weak wrists. This gun fits the bill. Ive had it for a couple weeks now. Its very comfortable to hold, easy to load, and easy to clean. Ive had issues with Blazer Ammo gunking up the feed ramp after 30 or 40 rounds, causing a round not to feed, but this isnt the fault of the gun, just the ammo. It comes with two interchangeable grips, and two mags, which is a great bonus. The grips were a little difficult to change, but not a big deal..you dont want those to be loose anyway. The mags have a thumb slide for loading ease. Overall, Im very pleased with the look, performance, features, and price of this Ruger.
Thank you Joe!! by Liz from Columbus, Ohio
I came in to purchase a Walther P22. My heart was set on it as I had just shot one a few days before at the gun club and loved it. A Walther P22 is nothing compared to my new Ruger! I LOVE this weapon!! Its accurate, easy to shot, easy to disassemble/clean, and cheap to shoot. You wont be sorry with this gun!!
I like this gun! by Randy from Newark, Ohio
I wanted a .22 so I could have a gun to shoot that would be economical. I did a good bit of YouTube study and decided to get either a Walther P22 or this Ruger. After looking at both guns at Buckeye Outdoor and decided on the Ruger, even though it cost a little more. Over the past 2 weeks Ive put over 500 rounds through it using a variety of CCI, Winchester, Federal and Blazer ammo. I wont say that I havent had any misfires or jams, which is why Im not giving it a 5 in performance, but Id say 95% of the time there have been no issues. At first I thought it might have been a bad magazine, but I now think it was more some of the ammo gumming up. After giving it a quick cleaning I had no problems with the next 100 rounds. A selling point for me was how easy this gun is to disassemble and clean. Another selling point was the option of 2 grip sizes. The larger one worked better for me. I also like that it came with TWO magazines. Overall Im very happy with my choice.