SMITH AND WESSON SD9 VE 9MM TWO-TONE PISTOL
$369.99
Sale Price: $299.99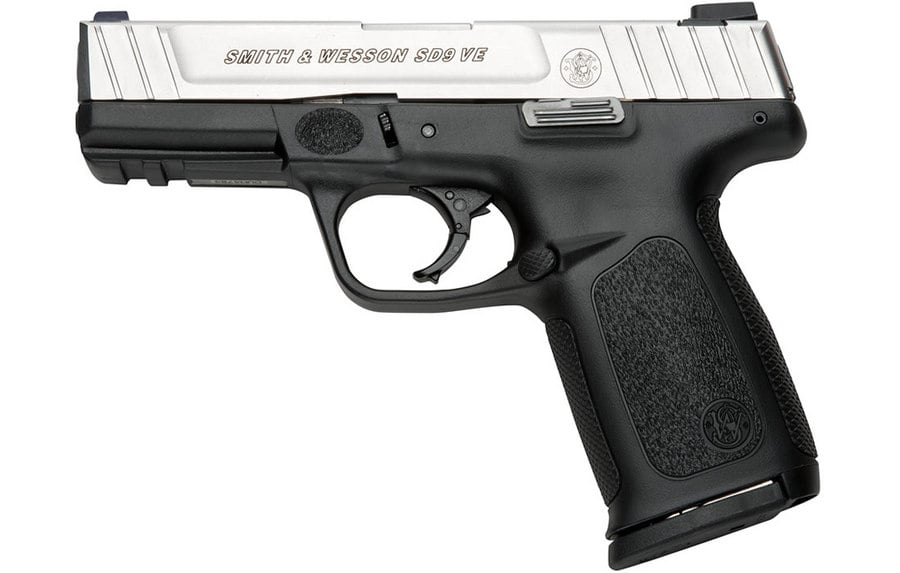 Description
What's in the Box
Smith & Wesson SD9VE 9mm Pistol
(2) 16-Round Magazines
Cable Lock
Smith & Wesson's new SD9 VE™, with its distincive two-tone finish, is a semi-automatic pistol, chambered in 9mm. This new offering features Smith & Wesson's SDT™ - a Self Defense Trigger for optimal, consistent pull from the first round to the last.
The picatinny-style rail gives you the option of adding accessories such as a light or laser. Another new feature is the aggressive front and back strap texturing, which provides a more secure grip, while still maintaining comfortability. Overall, the new SD9 VE™ combines value with enhanced features to deliver top-grade performance in a reliable option for home and personal protection.
Features and Benefits
SDT™ - Self Defense Trigger for Optimal, Consistent Pull First Round to Last
Dovetailed, White Dot Sights
Standard, Picatinny-Style Rail
Ergonomic, Textured Grip
Textured Finger Locator
Aggressive Front and Back Strap Texturing
Distinctive Two-Tone Finish
Front and Rear Serrations
Firearm Specifications
Manufacturer: Smith and Wesson
SKU: 223900
Model: SW SD9 VE
Caliber: 9mm
Capacity: 16+1
Action: Striker Fired Action
Barrel Length: 4 inches / 10.2 cm
Sights: Dovetailed, White Dot Front and Rear Sights
Overall Length: 7.2 inches / 18.3 cm
Width: 1.29 inches / 3.3 cm
Weight: 22.7 oz. / 643 g
Grip: Textured Polymer
Frame Material: Polymer
Slide: Stainless Steel with Front and Rear Serrations
Barrel Material: Stainless Steel
Finish: Two-Tone
Reviews
My First Handgun by Scott from Columbus, Ohio
I read review after review before taking the leap. I couldnt be happier with the S&W SD9 VE. It has a great feel and is extremely accurate. Some reviews give the trigger negative ratings. I had no issues with it. By far the best value for a quality gun I could find. Steven Assisted me at the Cleveland Ave store and really helped me make the right choice.
happy camper by trevor oliff from columbus, Ohio
So i went and purchased the SD9VE today and gotta say i love it. 360$ including ammo you cant beat it. Cant wait to take it out to the range. Two thumbs up to vances great service and was a quick transaction will be coming back.
What a great glock by Larry from Grove City, Ohio
I bought the 40cal version on it shoots great. I read some articles about the sigmas and how the mags rattled, not this gun.

I have shot this gun a lot and love it and when you go to clean it it look a LOT like a glock. How do I know I own a g32 and a g23.

Buy this gun and save $150-200 with the same quality plus its made in the US.
GREAT GUN! by Brian from New Lexington, Ohio
I bought the Smith & Wesson SD9 VE about six months ago at an unbelievable price of $250 on sale. The gun is EXTREMELY accurate, the grip is great, the trigger gets a bad wrap but I think it feels and shoots very well. I have shot countless rounds through this gun with not jams!!! This gun is a must own!
Trigger mod by Ron Smith from Dover, Ohio
Bought the SD9 VE 1 month ago love it. Second purchase was from apex tactical trigger and springs. Next I added a LASERMAX SPARTA laser sight SPS-G.
Great price for good reliable weapon. by Michael from Buckeye Lake, Ohio
I've had the Smith & Wesson SD 9 VE for about three months and put 500 rounds through it. I really can't say anything bad about this weapon. I know there are those that complain about the trigger. It does have an 8 pound plus pull. But I really don't have any problems with that and for those who do for about $80-$100 you can pick up in apex trigger in spring kit that will give it about 5 1/2 to 6 pound pull. It is a good home defense weapon.
First Handgun by Joe from Columbus, Ohio
This was my first handgun, and after shooting a few hundred rounds I opted to get the full trigger and spring upgrade kit for this from Apex tactical online, and take down slide from Galloway Precision online. Once I did that, it dropped the trigger down to a 5lb trigger and this is very accurate. I've never had any misfires, or jams, or anything. I've even ran Walmart special TulAmmo dirty stuff through it. It seemed to run those just fine. For a first gun, I would definitely recommend to anyone wanting to buy a value pistol at a great price.