SMITH AND WESSON MP9 SHIELD 9MM PISTOL NO THUMB SAFETY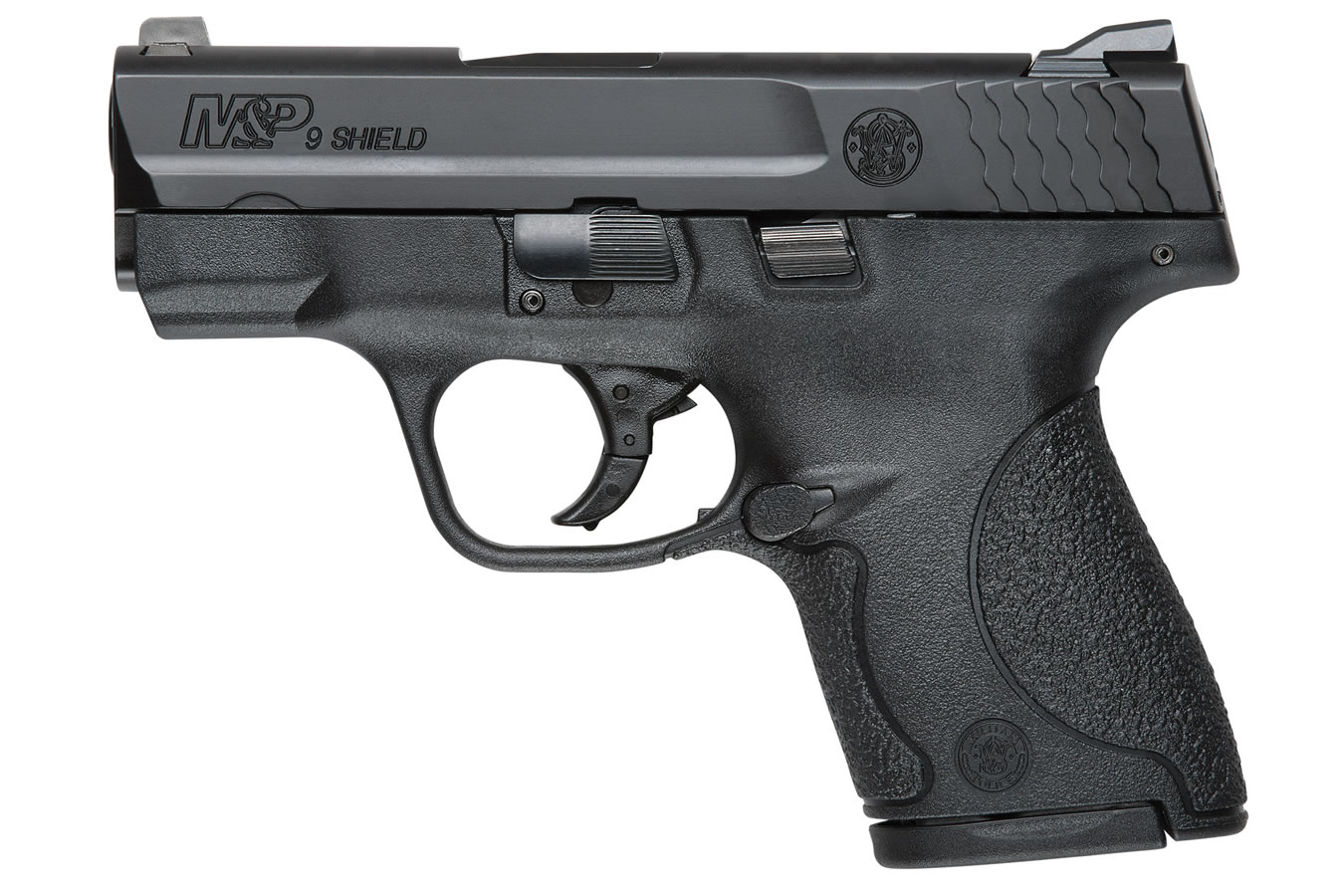 Description
What's in the Box
Smith & Wesson M&P9 Shield Pistol - No Thumb Safety
One 8-Round Magazine
One 7-Round Magazine
Cable Lock
Owner's Manual
This addition to the M&P Shield Pistol Series features no thumb safety.
A slim, concealable and lightweight design combined with the proven and trusted features found in the M&P Pistol Series. From the easily concealed one-inch profile to its optimized 18-degree grip angle, the M&P Shield offers professional-grade features that will provide you with simple operation and reliable performance.
The M&P Shield also features a quick and audible reset made possible by the striker-fired action, allowing multiple rounds to be placed on target both consistently and accurately. And it's all backed by Smith & Wesson's Lifetime Service Policy.
Includes 2 magazines: one with extended capacity for full grip
18 degree grip angle for natural point of aim
Striker-fired for short consistent trigger pull, every time
Incorporates the design features of the M&P line of firearms
Extremely thin and lightweight - can be comfortably carried all day
M&P's patented take-down lever and sear deactivation systems allow for disassembly without pulling the trigger
Firearm Specifications
Model: M&P9 Shield with No Thumb Safety
Caliber: 9mm
Capacity: 7 Round & 8 Round
Action: Striker Fire
Barrel Length: 3.1" / 7.874 cm
Front Sight: White Dot
Rear Sight: White 2-Dot
Frame/Barrel Material: Stainless Steel
Frame Width: .95" / 2.413 cm
Overall Height: 4.6" / 11.684 cm
Overall Length: 6.1" / 15.5 cm
Weight: 19.0 oz / 538.7 g
Frame Material: Polymer
Barrel/Slide Finish: Black/Durable Corrosion Resistant
Trigger Pull: 6.5 lbs. +/-
Sight Radius: 5.3" / 13.3 cm
Related Videos
Reviews
M&P Shield by josh from columbus, oh
Got it, love it so far. I havent got to shoot it yet about to do that now. I couldnt wait to say this gun disappears if you can find a good holster. Super light and really thin less then one inch. I love it before i shot it once. I can imagine after i shoot it i will just love it more. I usually run a Glock 23 so 9 mil will be easy to control Im sure even in a small gun as the Shield. Also getting some HST Federal hollow points. On sale right now awesome deal. Get one if you are looking for a Single stack 9 or 40.
awesome by josh from columbus, oh
Got to shoot it many times. Great single stack 9. Highly recommend
Love it by Jeff from Newark , Ohio
I like Glock very much, was looking to buy the G43 at $529.00, looked at the Shield once and I havent put it down, great shooter for the price,$379.00. I dont think anyone could go wrong buying the Shield, the 9mm conceals very well.
Its everything youve heard! by Rex from Blacklick, Ohio
The M&P9 Shield handles and shoots as well as any pistol I own. In 200 rounds it has never malfunctioned and accuracy was great. I would recommend the Shield to anyone looking for a concealable, easy to handle 9mm pistol.