RUGER AR-556 5.56 NATO M4 AUTOLOADING RIFLE
View More Products from RUGER
Item Number: 8500
$699.99
Sale Price: $519.99
IN STORE PICKUP ONLY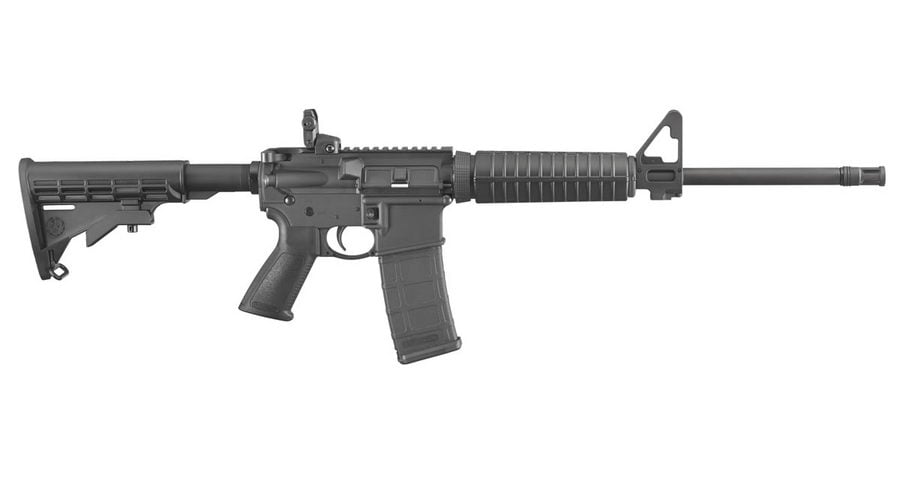 Description
The Ruger AR-556 semi-automatic, M4-style, direct impingement Modern Sporting Rifle offers consumers an affordable, American-made Modern Sporting Rifle with the rugged reliability they have come to expect from Ruger. Extensively tested during its development, the AR-556 is constructed from top-quality components, including forged 7075-T6 aluminum upper and lower receivers and a cold hammer-forged chrome-moly steel barrel with M4 feed ramp cuts.
Chambered in 5.56 NATO, the AR-556's carbine-length, flat-top, M4 design is fully configured with a Ruger Rapid Deploy folding rear sight, milled F-height gas block with post front sight, forward assist, dust cover, brass deflector, telescoping six-position stock, improved trigger-reach grip, enlarged trigger guard and one 30-round Magpul PMag. Standardized M4/AR components are utilized throughout, so the AR-556 can be customized easily.
AR-556 Features
Windage Adjustable Ruger Rapid Deploy Rear Sight: The Ruger Rapid Deploy folding rear sight provides windage adjustability, and is a solid, reliable aiming system when coupled with the elevation adjustable front sight. The rear sight can be folded out of the way to make room for optics but can be instantly redeployed if needed.
Forged 7075-T6 Aluminum Upper Receiver: Made from aerospace-grade 7075-T6 aluminum forging, the flattop upper receiver includes a forward assist, dust cover and brass deflector, and is Type III hard coat anodized for maximum durability.
Shot Peened, 9310 Alloy Steel Bolt: The bolt is machined from 9310 alloy steel and is shot peened and pressure (proof) tested to ensure strength, structural integrity and durability.
Patent Pending Barrel Nut and Delta Ring: The patent pending Barrel Nut and Delta Ring are designed for one person handguard removal and installation. The design accepts standard carbine length handguards. The barrel nut uses a standard wrench and can be swapped with a Mil-Spec barrel nut if desired.
Elevation Adjustable Front Sight: The front sight post is elevation adjustable, and a front sight tool is included. The A-2 Style F-Height allows co-witness with many optics.
Medium Contour Cold Hammer-Forged Barrel: The 16.10 inch medium contour barrel is cold hammer-forged providing ultra-precise rifling for exceptional accuracy, longevity and easy cleaning. The 1:8 twist rate stabilizes bullets from 35 to 77 grains, and the 5.56 NATO chamber allows the use of both 5.56 NATO and .223 Rem. ammunition. M4 feed ramps provide improved operational reliability, and the matte black oxide finish reduces glare and provides corrosion resistance. A Ruger flash suppressor is provided, and the 1/2-28 threaded barrel allows for standard muzzle accessories to be installed.
Single Stage Trigger and Enlarged Trigger Guard: The single stage trigger provides durable and reliable fire control. The enlarged trigger guard is designed to allow for gloved shooting.
Matte Black Oxide Bolt Carrier with Staked Gas Key: The chrome-plated bolt carrier inside diameter and chrome-plated gas key inside diameter provide exceptional resistance to hot gases. The gas key is staked so that it will not loosen after extensive firing. A matte black oxide finish on the exterior of the bolt carrier provides corrosion resistance.
Serrated Face Milled Gas Block: The milled gas block is located at a carbine length (M4) position for improved balance and handling. Multiple attachment points include a QD socket and bayonet lug, for many sling and accessory mounting options. Serrations on the angled face of the gas block provide a low-glare surface.
Firearm Specifications
Manufacturer: Ruger
Model: AR-556
Model Number: 8500
Caliber: 5.56 NATO
Weight: 6.50 lbs.
Length: 32.25 - 35.50 in.
Length of Pull: 10.25 - 13.50 in.
Width: 2.50 in.
Height: 8.00 in. (Without Magazine)
Capacity: 30-Rounds
Buttstock: Six-Position Telescoping / Mil-Spec Buffer Tube
Handguards: Heat Resistant Glass-Filled Nylon
Grip: Ergonomic Improved Trigger Reach / Enlarged Trigger Guard Opening
Sights: Elevation Adjustable Front / Windage Adjustable Ruger® Rapid Deploy Folding Rear (Front Sight Tool Included)
Upper Receiver: Flat Top 7075-T6 Aluminum Forging / Forward Assist, Dust Cover and Brass Deflector / Type III Hard Coat Anodized
Lower Receiver: 7075-T6 Aluminum Forging / Type III Hard Coat Anodized
Bolt Carrier Group: Staked Gas Key / Chrome Plated Bolt Carrier ID and Gas Key ID / Matte Black Oxide Finish
Bolt: 9310 Alloy Steel / Shoot Peened / PT Tested
Barrel:
16.10 in. Medium Contour
Cold Hammer-Forged 4140 Chrome-Moly Steel
1:8 Twist Stabilizes Bullets from 35 to 77 Grain
M4 Feed Ramp Cuts
PT Tested
Threaded ½ - 28 with Ruger Flash Suppressor
Barrel Contour is .850 Under the Handguard, .750 Under the Gas Block, .700 Forward of the Gas Block
Matte Black Oxide Finished
Gas Block:
A-2, F-Height, Pinned in Place
Multiple Sling Attachment Points and with QD Port and Bayonet Lug
Machined Low-Glare Serrations on Angled Face
Barrel Nut/Delta Ring:
Patent Pending Design
One Person Removal
Accepts Standard Handguards
Uses Standard Wrench, Can be Swapped with a Mil-Spec Nut if Desired
Reviews
Ruger AR-556 by Bob from Logan, Ohio
Great buy and a Fantastic Rifle!!

Tight Shots Fired at 60 yards Right Out of The Box After a Good Cleaning!!

You wont be sorry if you purchase this Weapon!I should have bought two!!

A Big Thank You to Scott For Handling

The Sale Very Easy!!
Ruger AR 556 by Dustin from Newark, Ohio
Great rifle most of the features of models twice the price. Cycled 200 rounds quickly with no problems. Sales staff was great as always. In and out of the store in less than 45 minutes
Ruger AR 556 by dustin from Fredericktown, Ohio
Amazing rifle for the price. I got it when it was a little cheaper, but you can't go wrong with this gun. That being said, it's not perfect. It's a cheap AR and its cheap for a reason. Still a very great value for the money.
Ruger ar556 by D. Hope from Albany, Ohio
I am very pleased with this rifle and enjoyed the sales staff. I will return for future purchases. A very well stocked and staffed store.