SPRINGFIELD XDS 3.3 45ACP BITONE ESSENTIALS PACKAGE
View More Products from SPRINGFIELD
Item Number: XDS93345SE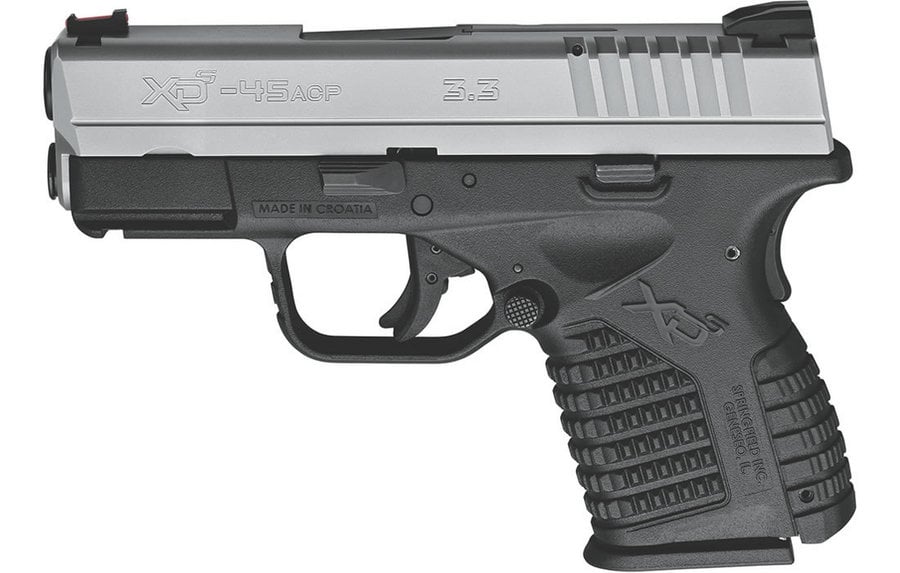 Description
What's in the Box
Springfield XD-S 3.3 45ACP Bi-tone Pistol
1 Flush Fitting Magazine & 1 with New Mid-Mag X-Tension
2 Interchangeable Backstraps
Lockable Case
Cable Lock
Bore Brush
The new XDS Essentials Package from Springfield contains all of the basics you need for your XDS 45ACP Bi-Tone - minus the ammo, of course. This slimmed down package includes your pistol, two magazines, two interchangeable backstraps that allow you to custom fit your grip, a cable lock, and a bore brush, all inside of a lockable hard case. The two stainless steel magazines that come with your XDS 45ACP Bi-Tone Essentials Package include one 5-round flush-fitting magazine, along with Springfield's brand new 6-round Mid-Mag with the X-Tension grip sleeve.
XDS 45 Essentials Specifications
Manufacturer: Springfield Armory
Model: XD-S 3.3 Single Stack 45ACP Bi-Tone Essentials Package
Item Number: XDS93345SE
Caliber: 45ACP
Capacity: 5 + 1 RDS
Weight: 21.5 oz.
Barrel: Melonite®; Fully Supported Ramp
Sights: Steel Dovetail Rear; Fiber Optic Front
Slide: Forged Steel
Frame: Black Polymer
Magazines: 1 - 5 Round Flush Fitting, 1 - 6 Round With Mid-Mag X-Tension, Stainless Steel
Overall Height with Magazine: 4.4"
Overall Length: 6.3"
Overall Width: .9"
California Compliant: No
Reviews
fantastic by Harley from London, Ohio
I have only had it for a few days now and I absolutely love it. This is by far the best pistol I have ever shot. While looking at the gun online I figured it would be too small for my large hands, but when I went in the store I checked it out, it fit perfectly. Dont let the small size fool you. It packs a punch.