SIG SAUER P938 BRG TWO-TONE 9MM WITH NIGHT SIGHTS
View More Products from SIG SAUER
Item Number: 938-9-TSS-BRG-AMBI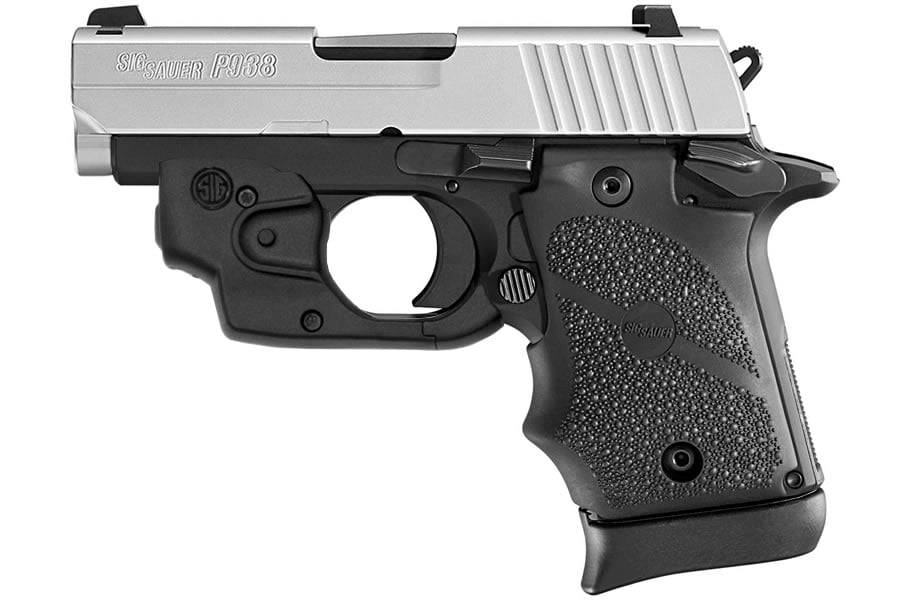 Description
Whats in the Box
Sig Sauer BRG 9mm Two-Tone Pistol
(1) Flush-Fitting Magazine
(1) Magazine with Finger Grip Extension
Sig Sauer Kydex Holster
Lucas Extreme Duty Gun Oil 4mL Sample
Cable Lock
Owners Manual
Introducing the P938 BRG Two-Tone. The first 1911-inspired 9mm microcompact by SIG SAUER®. This lightweight, all-metal pistol builds on the trusted P238® platform, delivering accuracy and reliability with duty caliber performance.
Features
Microcompact Frame
Slim and Lightweight 9mm
Single-action Only
Firearm Specifications
Item Number: 938-9-TSS-BRG-AMBI
Caliber: 9mm
Action Type: SAO
Trigger Pull DA: N/A
Trigger Pull SA: 7.5-8.5 lbs
Overall Length: 5.9 in
Overall Height: 3.9 in
Overall Width: 1.1 in
Barrel Length: 3.0 in
Sight Radius: 4.2 in
Weight w/Mag: 16.0 oz
Mag Capacity: 7 Rounds
Sights: SIGLITE Night Sights
Grips: Black Rubber Wrap Around Grips
Frame Finish: Black Hard Anodized
Slide Finish: Stainless
Accessory Rail: No
Features: Ambi-Safety, Beavertail style frame, Black rubber wrap around grip, 7 Round extended mag
CA Compliant: No
MA Compliant: No
Reviews
First 100 rounds by William from Martins Ferry, OH
Second round didnt fire and two failure to feed within first 50 rounds. Contacted Sig Sauer and they said its not considered broken in until 250 rounds were through it. If it does it again then send it in. It handles very well and accurate. Its at the limit of pocket carry but conceals well with the Sig. pocket holster.
Great carry pistol by Ahmad from Columbus, Ohio
Good choice for concealed carry if you do not mind carry cocked and locked, accurate out of the box and I do appreciate the good Sig night sights. Feels good in hands even though I have large hands, grips are comfortable. Just make sure to shoot about 150 rounds, take it home and clean it, take it to the range and shoot it again to make sure the gun is broken in. I have shot multiple brand brass ammo FMJ and JHP with no issue. the gun some times come with a cheap Sig holster that does not seem to work, I contacted Sig, and as usual they have a great customer service who replaced the holster for me with no questions asked and sent me a brand new replacement that does not work as well also snags while drawing the gun and drawing from first time is a matter of luck, it is a cheap holster made by Fobus and has Sig logo on it. Do yourself a favor and buy another holster. Last but not least, as always Vance's customer service is great and they always have competitive pries.