HI POINT IBERIA JCP 40SW PISTOL
View More Products from HI POINT
Item Number: 34010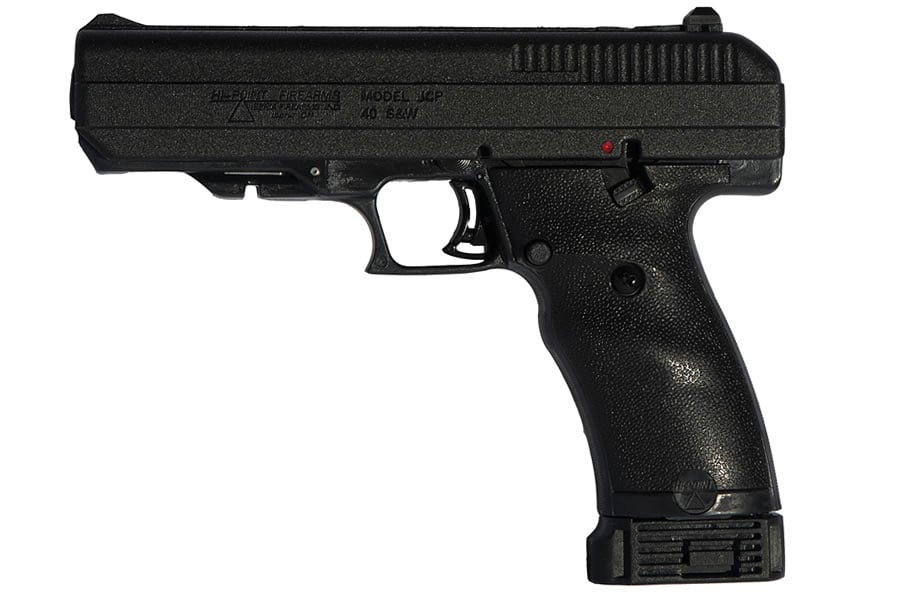 Description
What's in the Box
Hi Point Iberia JCP 40 S&W Pistol
One 10-Round Magazine
Trigger Lock
Ghost Ring Sight
Owner's Manual
Hi-Point offers affordably-priced semi-automatic handguns in a range of the most popular calibers. Each is sized to assure a firm, comfortable grip and exceptional recoil control, and includes Hi-Point's lifetime unconditional warranty. Hi-Point handguns are +P rated and accept all factory ammunition. Additionally, every Hi-Point handgun model features:
Polymer frame
Durable, attractive easy-grip finish
Last round lock open
Quick on-off thumb safety
Operations safety sheet
+P rated
Free extra rear peep sight
Free trigger lock
Lifetime warranty
100% American-made, parts and assembly
Hi Point pistols are illegal for sale in the states of Illinois and Minnesota due to "melting point" laws.
Firearm Specifications
Barrel length: 4.5 in.
Overall length: 7.75 in.
Weight: 35 oz.
Frame: High-impact polymer
Finish: Black powder coat
Capacity: 10-shot magazine standard
Sights: 3-dots, fully-adjustable rear sight
Reviews
Great gun by jeramie from Columbus, ohio
for it class it a great gun i have 500 bullets threw this gun no problem period. best gun i ever owned. for the money it worth it. cant compair this gun to a glock or ruger .
Ruger LCP Purchace by David from Columbus, Ohio
Great purchace, Thanks to Joseph W who took a little time to help me figure out what exactly what I needed. I was like a kid in a candy shop. At $269 he got me the best deal he could. So thank you Joseph W! Five stars all the way.
This gun is junk by Christopher from Columbus, Ohio
This gun is very picky when it comes to ammo, jams constantly, and is very heavy. I wasted my money on this gun and promptly sold it for something more reliable, safe, and something I can trust to protect my life. I guess if you want a cheap gun this will do the trick but thats all its got going for it.