HI POINT STRASSELL CF380 380CAL PISTOL
View More Products from HI POINT
Item Number: CF380
$179.00
Sale Price: $149.99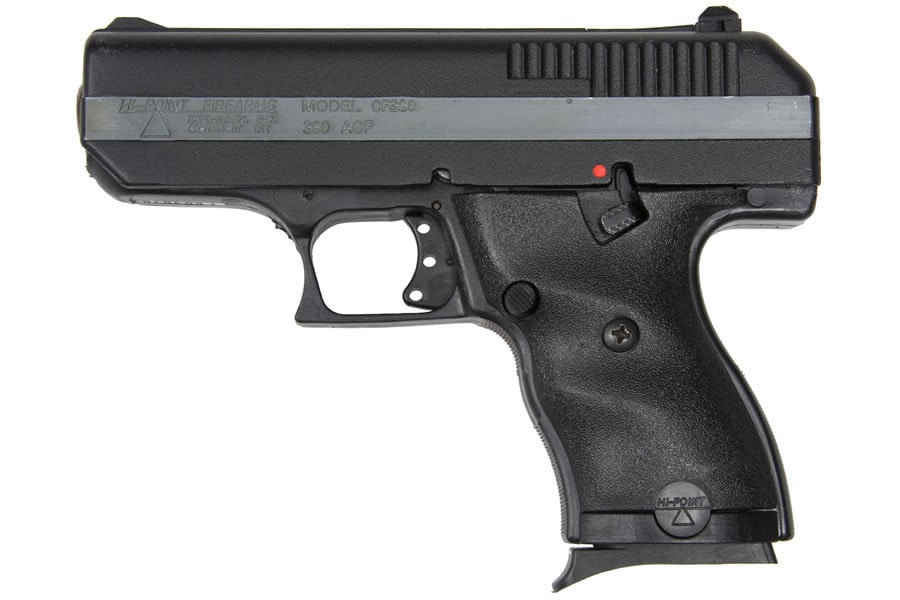 Description
The Hi-Point CF-380 features a 3 1/2 inch barrel, adjustable sights, 8 round magazine, last round hold open. These features produce a compact 380 that is incredibly accurate with ultra-low recoil.
Hi Point pistols are illegal for sale in the states of Illinois and Minnesota due to "melting point" laws.
Firearm Specifications
Action: Double Action Only
Caliber: 380 ACP
Barrel Length: 3 1/2"
Capacity: 8 + 1
Safety: Thumb Safety
Grips: Polymer
Sights: 3-Dot Adjustable
Weight: 29 oz
Finish: Black w/Chrome Rail
Reviews
Hi-Points by Terry from Goshen, Indiana
I own the 380, C-9 and 40 cal. S&W. The 380 is my newest purchase. Also have the 4095 Carbine. I own more expensive firearms, bujt none are more dependable than my Hi-Points. Those who complain are those who dont own them. This 380 is great and ependable.
Best 380 I have shot by Jason from Ashville , Ohio
I recently purchased the Hi-point CF380 and really enjoy it. I have shot many high end 380s and the hi-point is by far the best. I purchased the cheapest ammo I could find tulammo and shot well over 100 rounds and had no problems at all.My dad used his Bersa Thunder 380 and it jammed after the 6th round. Hi-point is a great gun and I would recommend it to anyone.
Very good by Jason from Ashville , Ohio
This 380 is very good.I have shot several hand guns and in my opinion this is by far the best. I shot over 100 rounds of the cheapest, dirtiest ammo with no prob. It has very low recoil and is very accurate. At 10 yards with my 1st 8 round magazine I placed 7 within the target. I would recommend the Hi-point to everyone.