HI POINT HASKELL JHP 45 ACP PISTOL
View More Products from HI POINT
Item Number: 34510
Price is too low to display. To see our price, add this item to your cart.
Adding this item won't require you to purchase the product. You can easily remove it from your cart if you decide not to buy it.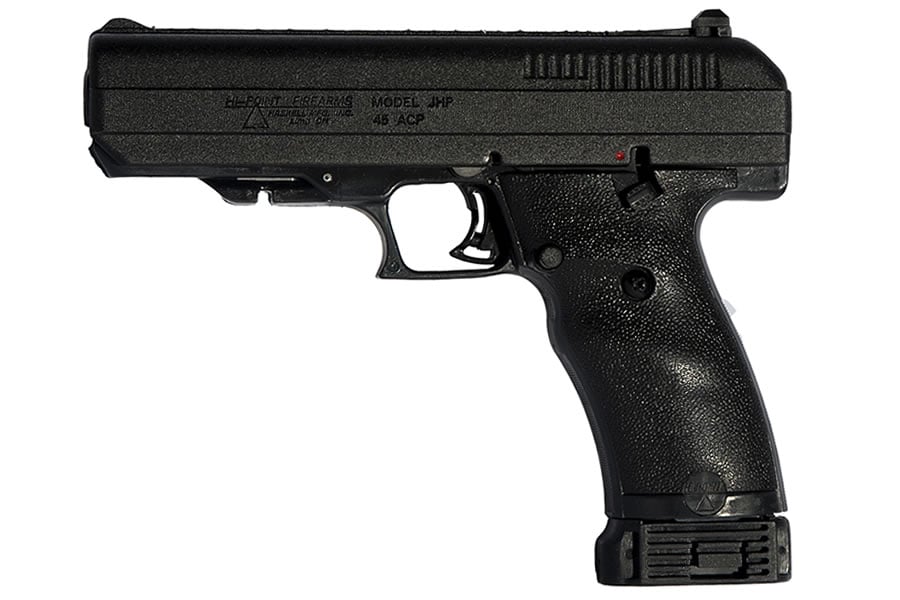 Description
Hi-Point offers affordably-priced semi-automatic handguns in a range of the most popular calibers. Each is sized to assure a firm, comfortable grip and exceptional recoil control, and includes Hi-Point's lifetime unconditional warranty. Hi-Point handguns are +P rated and accept all factory ammunition. Additionally, every Hi-Point handgun model features:
Hi Point pistols are illegal for sale in the states of Illinois and Minnesota due to "melting point" laws.
Polymer frame
Durable, attractive easy-grip finish
Last round lock open
Quick on-off thumb safety
Operations safety sheet
+P rated
Free extra rear peep sight
Free trigger lock
Lifetime warranty
100% American-made, parts and assembly
Firearm Specifications
Barrel length: 4.5 in.
Overall length: 7.75 in.
Weight: 35 oz.
Frame: High-impact polymer
Finish: Black powder coat
Capacity: 9-shot magazine standard
Sights: 3-dots, fully-adjustable rear sight
Reviews
Meat and Potatoes by Toney from GROVEPORT, OH - Ohio
I first bought one of these back in 2001. When you buy one of these you have to ask yourself a couple of questions. 1. Will the person you are shooting with it will admire what youre gunning them down with 2. When it comes to handguns is it the gun or the shooter Outside of the smoothness of the trigger the performance will pretty much be the same. Although this gun is cheap and not the prettiest the customer service is second to none. If you have any problems with your gun they will either fix it or replace it no matter how many people owned the gun. I just had the one I bought in 2001 replaced. They tell you the cheapest way to ship it to them and everything. They replaced it with a new one in less than a week with the original serial number on it. You can pay hundreds more for a more stylish looking gun all you want but if you want more bang for your buck this is it.