HERITAGE ROUGH RIDER 22LR COCOBOLO GRIP REVOLVER
View More Products from HERITAGE
Item Number: RR22B6
$199.99
Sale Price: $119.99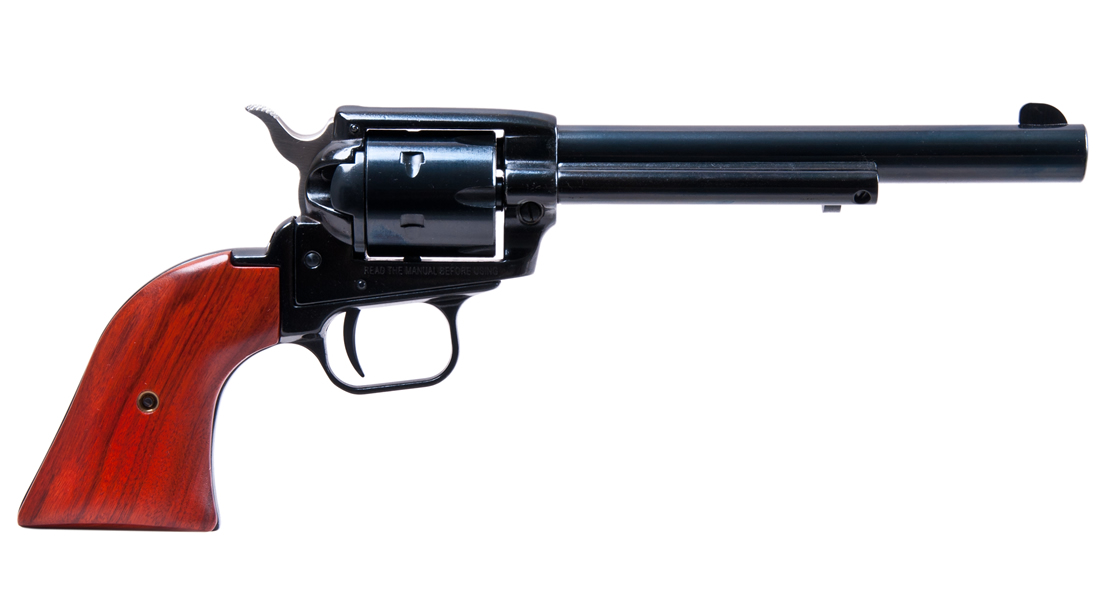 Description
What's in the Box
Heritage Rough Rider Revolver
(1) 22LR Cylinder
Test Casing
Warranty Paper
Trigger Lock
Owner's Manual
Born of the traditions of the Old West, the Rough Rider maintains much of the look and feel of the legendary Single Action Army revolver, only in a scaled down version. Chambered for the .22LR cartridge, the Rough Rider is manufactured using state-of-the-art precision machinery that assures its accuracy and reliability. The cylinder lock-up is tight and the perfect timing of the action makes for a handgun that will put its shots where you want them.
The machined barrel is micro-threaded and inserted into the frame for the optimal barrel/cylinder gap to give you maximum ammunition performance. A hammer block mounted in the recoil shield provides extra protection and has a red dot indicator that lets you know when the gun is ready for action.
Firearm Specifications
Model No. RR22B6
Barrel: 6.5 inches
Grip: Cocobolo
Caliber: .22LR
Finish: Blued
Reviews
Rough Rider 22 by Brent from Crooksville, Ohio
I have owned this for a couple of years & bought it to have a single-action cowboy pistol for plinking without the cost of a larger SA & ammo. It is very reliable and fun to shoot. It is the only SA I own and feels just a little barrel heavy. The shorter barreled version may feel more balanced. Partner this with an basic Henry and youre set - just need a hat.
Outstanding value, iconic style by Gale from Columbus, OH
I picked this up from the Obetz location, whose staff were incredibly courteous, professional and prompt for an outstanding price point on sale for $119. I wanted to try a .22 for some affordable range practice but also wanted to try something different from the standard semi auto pistols. Ive had a chance to shoot it at the range and honestly Most fun Ive had yet at a range! It is fairly barrel-heavy, but that also results in absolutely no recoil from the .22LR rounds. Ejector rod works just fine, the hammer block safety functions as well and doesnt get in the way at all. Accuracy is surprisingly good! At 30 feet and below I was getting decent groupings. One-handed cowgirl action was also just fine. Some folks in online videos have mentioned that they had to use a bit of Kentucky windage with theirs, mine seems pretty on point! I took my friend to the range who had never ever shot before and she had no problems firing this quite accurately. This makes a great practice gun for someo